House of Fraser is to close 31 of its 59 stores as part of a plan to become an e-commerce led retailer 'offering a seamless multi-channel proposition and integration between in-store and online experience".
It is proposing a Company Voluntary Arrangement (CVA) that would also allow it to reduce store rents saving more than £20m a year.
The strategy is to become "the house of brands" with the focus on premium brands. It said: "We have more brands than any other business. We are the high street antidote to retailers looking for low risk high street footprints."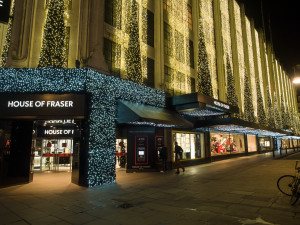 Result for the year to 27th January 2018 show that the gross transaction value of sales was down to £1.2 billion from £1.3bn the year before.
At the same time distribution costs rose from £359.9 million to £375.1m Operating profit was down from £31.8m to £19.8m.
In the first quarter of the new financial year like-for-like sales were down 7.4 per cent of the previous year.
Under the deal C.banner, which own Hamley's toy store, will become 51 per cent shareholder in House of Fraser Group Limited, while current owner Cenbest Hong Kong will reduce its shareholding to 49 per cent.
The group said this would provide an opportunity to share best practice in buying, supply chain and customer engagement.
The CVA proposal is due to be put to creditors for formal approval on 22nd June. The store closure programme, which includes the flagship Oxford Street store, is due take place early next year.