Bread-maker Hovis has extended its contract with Ceva Logistics for a further three years. Ceva provides dedicated vehicles, dedicated drivers and cross-dock warehousing services from its Mendlesham facility in Suffolk.
Ceva receives Hovis product by road from the baker's regional distribution centre at Dagenham in Essex. It is checked and cross-docked onto nine radial routes which then deliver the branded product to customers across East Anglia. This dedicated service ensures that Hovis product can be delivered accurately to a number of locations at one time.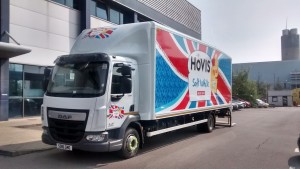 Ceva manages a Hovis fleet of vehicles and provides warehouse and administration staff, as well as Category C drivers who have been trained to handle Large Goods Vehicles (LGVs) over a weight of 3,500kg.
On its road fleet, Ceva use telematics software with sign on glass technology to minimize administration and paper, speed up the delivery process and reduce the supply chain environmental footprint.
"We are pleased to have been entrusted with the Hovis business for an additional three years. It's good to see that our drive for operational excellence for the last three years has been rewarded with a new contract of the same length and that such a respected household name trusts Ceva to deliver on its behalf, " says Michael O'Donoghue, executive vice president UK, Ireland and Nordics.