Abbey Logistics has won a contract with baker Hovis to provide bulk flour distribution to its bakeries in the Midlands and the South of the UK.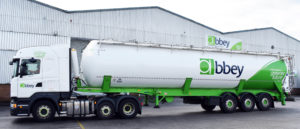 "We needed a transport provider with expertise, experience and the ability to drive supply chain service to ensure that Hovis can in turn deliver to our customers and consumers," said Hovis Milling supply chain director Chris Harrop.
Abbey will invest in new equipment to boost Hovis' existing fleet and provide it with flexible resource from its wider nationwide bulk powder tanker fleet.
Existing Hovis bulk distribution staff working in the Midlands and the South will transfer to Abbey when the contract begins.