In fact, Icon, a joint venture between Stoford and TPG Real Estate, has submitted two detailed planning applications for single aspect and cross-dock developments, both are designed to be highly specified to meet the current needs of the logistics occupational market.
If successful, it will develop a single warehouse building of between 398,000 – 459,000 sq ft at Unit 2. It will have three-storeys of integrated office accommodation and two-storey hub offices.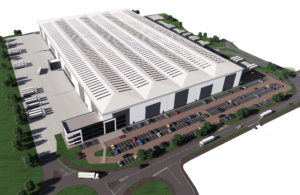 Dan Gallagher, joint managing director of Stoford Developments, said: "The scheme has understandably attracted significant demand from businesses keen to locate here, given the strong list of existing occupiers and the site's unrivalled airport connectivity. We believe the proposed development at Unit 2 will provide an excellent opportunity for potential occupiers in a key strategic location and continues the fulfilment of the Airport City master plan."
Icon Manchester Airport is a 45-acre build-to-suit logistics park located next to the World Freight Terminal and part of the Manchester Enterprise Zone.