IDI Gazeley has applied for outline planning permission to develop a 4.6 million sq ft of warehousing next to its existing Magna Park development near Lutterworth.
The development at the 573 acre (232 ha) site would include 4.6 million sq ft (427,200 sq m) of warehousing with ancillary offices; 39,800 sq ft (3,700 sq m) for a Logistics Institute of Technology; 97,000 (9,000 sq m) of small business space; and the creation of a 104,500 acre (42.3 ha) country park.
The new site is to the north-west of the existing park, bordered by Mere Lane and the A5.
IDI Gazeley has already set out plans for a one million sq ft (100,000 sq m) distribution centre for DHL Supply Chain at the site.
The application, submitted by Now Planning on behalf of IDI Gazeley said: "IDI Gazeley is pioneering a wholly new concept for the industry and the communities it neighbours: a dedicated logistics park, rich in accessible bio-diverse countryside and environmentally sound."
"The planning application proposes to extend IDI Gazeley's Magna Park to meet the pressing needs of the logistics sector for high quality, operationally efficient and environmentally sustainable distribution space within the Golden Triangle and building on the already best-in-class and hugely successful Magna Park.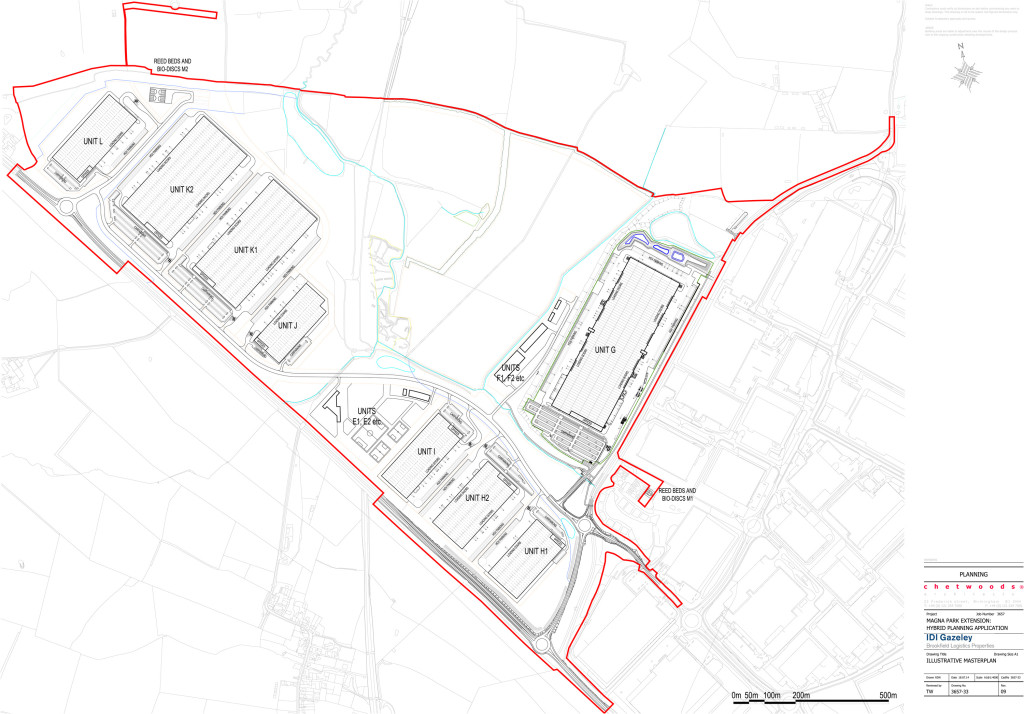 "The scale of the extension makes it commercially feasible for IDI Gazeley also to seek planning permission for, and invest additionally in, the Logistics Institute of Technology and its campus, the co-located Innovation Centre, Bittesby Country Park, the Railfreight Shuttle Terminal, the Driver Training Centre and the heritage exhibition centre.
The Logistics Institute of Technology (LIT) would be partnered by IDI Gazeley, Aston University and South Leicestershire and North Warwickshire & Hinckley Colleges. LIT would offer technical qualifications Levels 2-7 and a route through MSc and PhD degrees, together with teaching laboratories, applied research facilities and demonstration space for early stage Institute and industry technical innovations.