Impact, the Cat Lift Trucks distributor, has expanded its delivery arm with a six-by-two Scania R450 Highline tractor unit.
The unit comes with a tri-axle Nooteboom forklift trailer, in Impact livery. The trailer has a low deck height, long sloped ramps with a gentle loading angle and a sliding roof to accommodate high-mast trucks, and can transport up to five 2.5-tonne forklifts.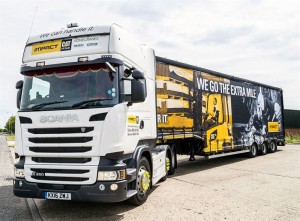 The new arrival brings Impact's specialist fleet to three trucks – two Scania R450s and a Mercedes-Benz Actros – plus three Nooteboom forklift trailers, all of which are co-ordinated from Impact's Corby depot.
Terry Kendrew, Impact managing director, said: "By operating our own fleet, we ensure that our customers get the very best in materials handling equipment as quickly as possible, all delivered by a team of professional drivers.
"Such an approach means we can ensure the trucks arrive on time, and are ready to work the moment they roll off the ramp – it's a factory-to-customer approach that is greatly appreciated by our clients, and demonstrates how far we'll go to provide the best in customer service."