Logistics industry bodies have welcomed the decision of Sir Howard Davies's Airport Commission to throw its weight behind an additional 3,500m runway to the north west of Heathrow's existing runways. 
The commission said this option offered the greatest strategic and economic benefits – providing around 40 new destinations from the airport and more than 70,000 new jobs by 2050.
An interim report from the commission recommended that UK airport capacity required an additional two runways, one to be completed by 2030 and a second by 2050.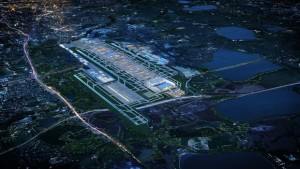 The British International Freight Association, which in 2009 supported the then government's decision to install a third runway at Heathrow, backed the commission. Director general Robert Keen said that successive UK governments have failed to address the issue.
"BIFA's hope is that the recommendation delivered in the report moves
things forward in regard to getting started on an expansion of UK aviation
hub capacity," said Keen. "It is now time for everyone, including politicians of all parties, to pull together in the national interest and support the bold plans to expand and improve airport infrastructure at Heathrow to maintain the UK's position as Europe's most important aviation hub."
Keen added that he was hopeful the report would finally result in some action being taken.
John Cridland, CBI director general, said: "Now that Sir Howard's commission has made its recommendation, the government must commit to the decision, and get diggers in the ground at Heathrow swiftly by 2020.
"Growing airport capacity in the South East is absolutely critical to the whole of the UK's economic future – it simply isn't an optional 'nice to do'. Each day the Government delays taking the decision, the UK loses out as our competitors reap the rewards and strengthen their trade links.
"Creating new routes to emerging markets will open doors to trade, boosting growth, creating jobs and driving investment right across the country. Our research shows that eight new daily routes alone could boost exports by up to £1 billion a year."
David Sleath, CEO of Segro, called on the government to bring an end to indecision and back Sir Howard's recommendation, and begin construction as soon as possible.
Heathrow Hub welcomed the decision, however it noted disappointment that the commission did not select its proposal, instead choosing Heathrow Airport's north west runway, the "third runway", which has been previously rejected by politicians and local communities in West London.
Captain William Lowe and his fellow Directors of Heathrow Hub, said:
"We recognise that the commission has spoken but we will continue to liaise with ministers and civil servants to ensure our proposal is properly understood as a cheaper, simpler and more politically deliverable option."
The CILT also responded positively to the news, however, it stated that the environmental impact of this option must be minimised. As such, it has called on the commission to be more definite on certain areas.
It wants clarification on the following:
·               The commission's recommendation that additional operations at an expanded Heathrow must be contingent on acceptable performance on air quality, is in line with CILT's proposal for a cap on aircraft movements if airport-related air quality limits are exceeded,
·               The commission's recommendation for a ban on night flights and a noise envelope goes some way towards CILT's proposals, but is forecast to result in 550,000 people within the 55dB Lden noise contour, compared with CILT's recommendation of 500,000 people, with additional aircraft movements contingent on this number not being exceeded,
·               the commission's recommendation that Heathrow Airport should be held to performance targets to increase the percentage of employees and passengers accessing the airport by public transport, should be strengthened by making additional passenger numbers contingent upon achieving no growth in airport-related road traffic, as was proposed by the Airport.
In addition it has called in the government to prevent any pre-funding of the runway by airlines and that it should be a condition of any approval for any new runway capacity that slots are reserved for key domestic routes.
The CILT also welcomed the commission's recognition that a second runway at Gatwick remains a credible option for the longer term.
"CILT recommends that the land required for a second runway at Gatwick should continue to be safeguarded, and plans for highways and railways should assume a second runway at Gatwick in the longer term," said a spokesperson.
Paul Le Blond, chairman of the CILT's Aviation Forum, said: "This report is based on sound evidence and the Government should act quickly and implement its recommendations. CILT's expertise and knowledge of transport is that soundly-based decisions, even if opposed by some groups, can establish a long term strategy which balances the interests of all."