Interroll has launched a Modular Pallet Conveyor Platform – a driven conveying system for pallets.
The pallet conveyor solution consists of chain or roller conveyors, alongside transfers and turntables. It can transport pallets of up to 1200 kilograms at a top speed of 0.5 metres per second. The elements in the system are able to withstand temperatures of up to 40 degrees and as low as -28 degrees.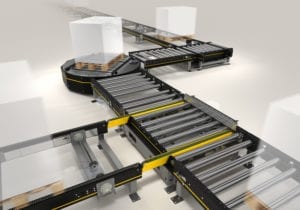 The modular pallet conveyor's drive is powered by gear or drum motors, depending on the application, enabling the creation of zero-pressure accumulation conveyors.  This differs from the flow storage system where pallets are buffered in immediate storage areas on inclined belts due to the force of gravity.
It utilises Interroll's new DC platform which enables zero-pressure accumulation, the RollerDrive EC5000. The platform motor rollers come in 20 W, 35 W and 50 W versions, with the latter being ideal for heavy goods.
"With the new DC Platform, system integrators and plant constructors can choose from an innovative, coordinated range of technological solutions from a single supplier, all based on years of development and testing," said Armin Lindholm, managing director of the global Centre of Excellence for rollers and RollerDrive in Wermelskirchen.
"This new platform can be used to create a unique range of conveying solutions, from autonomous conveyors that can be commissioned without a programmable logic controller (PLC) using plug-and-play, all the way to tailor-made, high-performance systems that can be consistently and transparently integrated into the data universe of Industry 4.0 applications for the purpose of monitoring in control stations, for preventive maintenance or for other functions."
The pallet conveying platform can act as a foundation for comprehensive pallet storage and conveying solutions. It is is easy to plan and arrange, arriving fully preassembled. Pallet inspection stations can also be installed along the conveyor.
Interroll invests €40m in new factory for conveyors and sorters