Intradco Global has transported Bertus, the 2.5 tonne one-horned rhino, from Europe to South East Asia as part of an endangered species-breeding programme.
Intradco worked with Mileinair and Chapman Freeborn Poland to transport the male rhino from Edinburgh Zoo to a new home at Batu Secret Zoo in Indonesia by offering an air transport solution as a part-charter on a Boeing 777 Freighter from Luxembourg to Surabaya.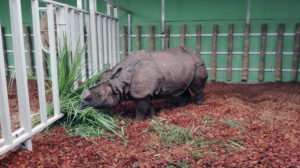 Bertus was accompanied by two veterinary professionals and two Intradco specialists throughout the road trip and flight who oversaw the safe loading and unloading requirements.
"Hopefully Bertus will be a significant boost to the endangered species breeding program – increasing the ex-situ numbers and helping to create more awareness of the challenges these impressive animals face in the wild," said Intradco's Tom Lamb.