IntraLogisteX 2019 has been hailed as a massive success by exhibitors and visitors alike after record numbers of buyers crowded into Coventry's Ricoh Arena to learn about the latest developments in intralogistics technology. 
The show, which took place on Tuesday and Wednesday of this week drew great comments from visitors.
"Great chance to learn about exciting new developments in the world of supply chain and logistics," said Volvo's uptime solutions co-ordinator.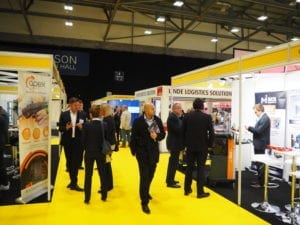 Strandvaus's operations director said: "Excellent selection of exhibitors. Great insight to the future for IT systems and automation."
"Innovation at the forefront which is of vital importance," said Crops UK's logistics manager.
Exhibitors were equally impressed. "An excellent Show with minimal distraction," said Philip Greatrix of Pierau Planung. "Well organised and supported throughout."
Daniel Cross of Tennant said: "Very good. Well organised and some top quality leads."
And Nick Ivins of Sanderson said: "Feels like an elite show – we love coming here! We've had some good conversations."
The exhibition saw a number of product launches. Robotics specialist Autostore chose IntraLogisteX for the UK launch of its new Black Line range.
ProGlove exhibited its new MARK 2 wearable barcode scanner which features Bluetooth and is capable of scanning distances of up to 150 cm.
Red Ledge launched its new warehouse management and control system solution which use automation to optimise warehouse control.
It was the first time exhibiting at IntraLogisteX for imio Software, which has been just been formed as a separate business from Conveyor Networks. Imio's Marcus Uprichard highlights the fact that the software suite has been designed with automation in mind. The suite includes WMS WCS, carrier integration, and specific software applications.
Another first time exhibitor, Conker, has just launched its SX5 Android barcode scanner. "Businesses across the UK are crying out for cost-effective, fit-for-purpose, business rugged mobile devices, with associated scanning capabilities, to form part of their enterprise mobility and digital transformation strategies," said chief executive James Summers.
Automation was strongly represented at the exhibition with exhibitors such as Knapp, SSI Schaefer, Daifuku, AutoStore. Linde exhibited its latest automated systems, while AGVs were on show from iCart and EK-Automation. Guidance Automation also focused on automation.
Indigo used the exhibition to reveal a major contract win with Barrus, the gardening tools and equipment supplier. Barrus is investing in the Indigo WMS warehouse management software to automate its previously paper-based warehouse processes.
Operations director Keryn Clarke, said, "Adding the Indigo WMS software means we have the ability to efficiently track the movement of goods throughout the business, so helping us make better use of available space in the warehouse, process stock and sales orders more quickly and generally prepare ourselves for further growth in shipping volumes in the future."
The conference programme attracted many visitors as they sat in for sessions from Lucas Systems, OrderWise, SPAR International, HelloFresh and the FTA.
OrderWise senior sales manager Jon Roberts spoke about the benefits and importance of robotics within the warehouse.
The dramatic changes in consumer behaviour and their impact on the supply chain came under scrutiny by Tom Rose, head of international operations at Spar International.
And FTA's John Lucy discussed getting logistics ready for Brexit, outlining what action business can take to prepare for Brexit come 29th March.