The iPort Rail strategic rail freight terminal in Doncaster has been officially opened by the Princess Royal.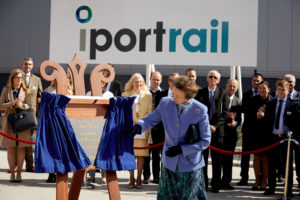 The multimodal rail terminal is a 30-acre site within Verdion's 337-acre iPort logistics hub and is designed to open up the Yorkshire region with new road, rail and air connections for national and international freight transport.
It connects to the electrified East Coast Main Line and is located next to the M18, close to Doncaster Sheffield Airport and within two hours of the East Coast's deep-water ports.
The iPort rail has the storage capacity for 1,500 TEUs and is operated by reach stackers which can each lift a 115-tonne load.
It is to accommodate the UK's longest trains up to six times a day and is to create 5,000 new jobs to the area. Over 2 million sq ft has already been committed to Fellowes, CEVA, Lidl and Amazon.
"Following the official opening, from next week we will be running up to six trains a day, six days a week with a 24 operation during those times We are already seeing very promising demand from the industry, particularly because of the benefits rail freight can provide when the road haulage industry is increasingly stretched," said iPort Rail managing director Steve Freeman.