Worldwide Flight Services has introduced 12 new 18-tonne Iveco Eurocargo trucks to handle its operations at Heathrow.
The Eurocargo trucks are joining a fleet of 54 and will be in operation up to 24/7 all year round. The trucks are mounted with a specialised flatbed body with impact-resistant rollers built by AMS which protect to air freight during loading and unloading.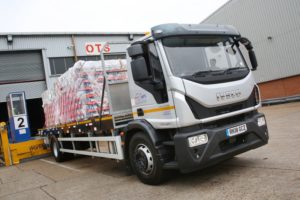 The trucks are powered by a 6.7-litre, Tector 7 engine that produces 250 hp at 2,500 rev/min and 850Nm of torque between 1,250 and 2,050 rev/min.
The cabs are the prime reason Worldwide Flight Services chose Iveco said WFS transport and logistics manager Ronnie Roberts: "We need cabs offering easy access, and the fact the Eurocargo has been set up for multi-drop work means it's perfect for our operation," and the "design of the interior also allows drivers to easily access the cab from either side, saving them time and making their jobs a lot safer."