Cardboard manufacturer Jardin Corrugated has chosen Bibby Distribution to distribute horticultural boxes from production sites at Ely and St Ives.
Bibby is using high-cube trailers that give 15 per cent more volume than a standard trailer, reducing the number of journeys needed.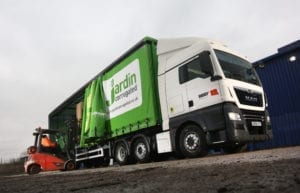 Mark Ludlow, operations director at Jardin Corrugated, said: "Bibby Distribution's new way of thinking means our work requires fewer journeys, which in turn has lowered our carbon footprint and reduced operating costs."
The four specialist SDC trailers are also collecting paper reels from Jardin Corrugated's suppliers based in central and eastern England on return trips, maximising fleet utilisation and keeping costs as low as possible.
At peak times Jardin will also have access to a further six 44-tonners, together with a 26-tonne rigid truck with tail-lift.
"The fact they can increase our fleet capacity at short notice during busy periods is also important to us, affording a new level of flexibility with the result that we can respond better to changing client priorities," said Ludlow.
Jardin Corrugated, part of the Logson Group, manufactures a wide range of boxes from retail ready packs and regular transit packaging, to complex die cuts and printed cartons for a wide variety of markets.