John Lewis is open a 638,000 sq ft distribution centre in Milton Keynes to complement its existing distribution centre at Magna Park which opened in 2009, and the adjacent Magna Park 2, which will be fully operational in 2016.
Operations director Dino Rocos said: "Our new Milton Keynes DC will complement our two Magna Park sites and provide us with the space to continue to build on the improvements we have made in providing better service to our shops and customers."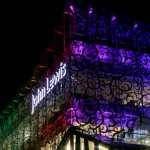 It has signed a 25-year lease on the 638,000 sq feet warehouse. When operational it will be responsible for large furniture and electricals and home furnishings, while Magna Park one and two, will be responsible for handling smaller products such as iPads and accessories and hanging garments respectively.
Staff at four of John Lewis's existing sites are being offered opportunity to relocate to the new DC or to another of the retailer's operations in Milton Keynes. This includes 239 people at three Milton Keynes sites, eight from Stevenage and 37 from Carlisle.
Rocos said: "As customers shopping habits evolve so too does our operational business model. The new DC will enable us to better respond, react and fulfil omni-channel shopping experiences be it via phone, tablet, desktop or visiting a shop.
"We recognise the high level of talent and valuable experience that currently exists with our partners across the sites that we propose to relocate and every partner will be guaranteed a new role at our new DC."