The first 15 of companies of Logistics Manager's Top 50 were revealed in an exclusive webinar streamed this morning at 10:30am, a 45-minute session that also included a fascinating interview with Wincanton's Paul Durkin, Chief Customer & Innovation Officer.
Wincanton, with revenue of more than £1.2 billion, achieved 1.72% growth in the year in focus but in recent weeks has highlighted tremendous growth in its H1 2021 posting, according to Durkin, up by 29%. This is surely a positive sign for the wider industry as it continues to bounce back from the initial lockdown of 2020 when everything simply ground to a halt.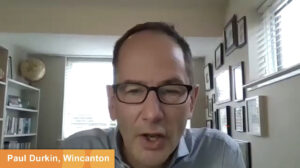 Durkin also revealed to Logistics Manager editor Nick Bradley the excitement within Wincanton at having acquired Cygnia Logistics in recent months, which will boost Wincanton's e-commerce offering and no doubt its revenue total next year. Additionally, he discussed innovation at Wincanton, with details about its W2 initiative, its automated Rockingham facility, and the importance of inclusivity at the company as well as generally.
The countdown continues on Tuesday morning at 10:30am (7th December) with the second set of 15 being announced, along with an exclusive presentation by Pól Sweeney, VP Sales EMEA Fleet Solutions at Descartes Systems Group, who will outline what the company can offer 3PLs and 4PLs in terms of software solutions.
You can still register for the Top 50 Logistics Service Providers by clicking the link below and not only watch live but catch-up with what you might have missed on-demand.
Wednesday's final countdown will feature Westcoast's Alex Tatham and Andy Newberry as well as Clipper Logistics' Tony Mannix. It will also count down the last 20 companies and the fastest-growing logistics service provider in the UK. Who will it be? You'll have to join to find out.
Click here to register for the event – watch Days 2 and 3 live or catch-up with Day 1 on-demand