The June 2018 edition of Logistics Manager is now out in print, online and for iPad and Android.
Cover story: Reverse logistics
The role that reverse logistics plays in the supply chain is changing. We examine how companies make the most of their returns offerings.
Analysis: A tale of two Stobarts…
And after the events of the past month, Alex Laffey could be forgiven for thinking that the organisation that is adding value to the Stobart name is not Stobart Group, but Eddie Stobart Logistics.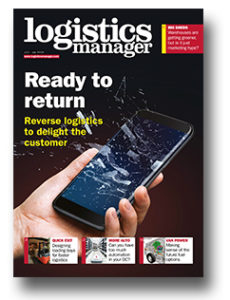 Brexit: testing the agility of your supply chain
Supply chain professionals hoping for the information they need plan for life outside the European Union can only have disappointed by the events of the past month.
Vans: All charged up
The move to alternative fuels, notably electricity, is gathering pace in the booming van market.
Warehouse Automation: Automation: when is enough… enough?
Warehouse automation is no longer the new kid on the block … but how much automation is enough to deliver results?
Loading Bay: Going faster in the loading bay
The need to move goods through the warehouse more rapidly is having an impact on loading bay design.
Round Table: The new adage: location, employment and power
In the middle of a technological revolution everything we know about property is changing and right at its heart is logistics. Industry experts examine the challenges – and possible solutions – in our round table sponsored by db symmetry.
Click here to subscribe to the print edition of Logistics Manager