The June issue of Logistics Manager is out now in print, online as well as for the iPad and Android.
Cover story:
Extended Supply Chain: Is the golden age over?
Liberalisation of trade has enabled companies to reap the benefits of extended supply chains, but with protectionism on the rise could the golden age be coming to an end, asks Malory Davies.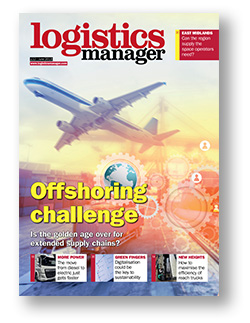 Necessity – the mother of invention
There are some very inventive options brewing for securing last mile logistics space…
Digital tech: is it the sustainability solution?
In the supply chain there exists a conflicting cohabitation of both the greatest opportunities and the most concerning risks for sustainability. Digital technologies promise to deliver stronger visibility to address those risks, but relying on data in a globalised world is increasingly challenging for operators.
Penelope Ody column: Cutting the carbon
Climate change activists happily disrupt out cities and lobby for the unrealistic – but will they change their digital lifestyles?
Analysis: Amazon's $10,000 disruption plan
When Amazon announced last month that it was offering its own US employees $10,000 to leave the business and start their own package delivery companies, it simply served to underline the retail giant's impact in disrupting the logistics market.
Alternative fuels: More power
Pressure is mounting to abandon diesel in the next couple of decades – and that will mean a wholesale move to electric motors. But keeping all those batteries charged is going to need lots more power.
Forklift Trucks: Reaching new heights
Reach trucks are a staple of the warehouse but how do you maximise efficiency?
Under starter's orders…
Despite a marked reduction in take-up the pressure is still on for space in the East Midlands – can the region provide it?
---
Click here to subscribe to the print edition of Logistics Manager