KFC is to use Bidvest Logistics to supply 350 restaurants in the north of the UK, following the problems at the start of its contract with DHL and Quick Service Logistics (QSL) last month.
The new contract started on Valentine's day and it quickly became clear that there were problems in getting the operation up and running with hundreds of restaurants forced to close.
A week later, KFC turned to Stowga, which offers and "Airbnb" type warehousing on demand service, to provide additional warehousing at eight locations around the country. The first opened in Bristol on 23rd February.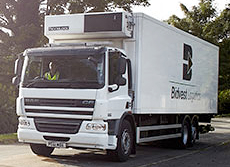 In a statement, Bidvest Logistics confirmed that it had signed a long-term agreement with KFC UK & Ireland to provide renewed supply to up to 350 of their restaurants in the North of the UK, from 26th March 2018.
Paul Whyte at Bidvest Logistics said: "We are delighted to welcome KFC back to Bidvest Logistics. As the UK's leading foodservice logistics specialist we understand the complexities of delivering fresh chicken. KFC is a valued customer and we will provide them with a seamless return to our network."