Kinaxia Logistics has acquired Manchester-based AKW Group – its tenth acquisition.
AKW, which includes AKW Global Logistics Limited and AKW Global Warehousing, provides range of logistics services including transport, warehousing, contract packing and international operations.
It is also a founder member of the Partnerlink network and operates as an active member of Palletline providing regional hub services. It employs some 380 people and has a fleet of 86 vehicles.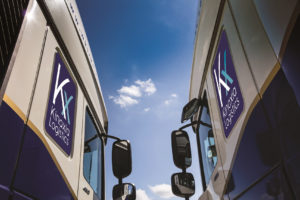 Tony Worthington, AKW chairman and founder, will retire while Paul Welsh will join Kinaxia in a central role helping develop and optimise the Kinaxia operations. Julian Richards and Rebecca Davies will continue in their current director roles in AKW Group and AKW Global Warehousing.
Worthington said: "We are delighted to be joining Kinaxia Logistics as this will take AKW Global to the next level and establish a secure future for the business and its employees and customers. We look forward to working with the other Kinaxia subsidiaries to provide additional services and accessing new opportunities for growth."
Other companies within Kinaxia Logistics include" Bay Freight, William Kirk, NC Cammack & Sons, Foulger Transport, Lambert Brothers Haulage, Panic Transport (Contracts), AJ Maiden & Son, Mark Thompson Transport, and BC Transport.
Kinaxia director, Peter Fields said: "Kinaxia has established itself by acquiring successful, well run, high service-level, family owned companies and AKW is a perfect fit with our strategy of both deepening and broadening our position in the UK logistics market. AKW's decision to become part of Kinaxia provides them the best way of continuing their growth while securing a future for their business and employees.
"We will continue making further investments in the next 18 months to build a leading service-focused haulage and warehousing group covering the UK."