Kinaxia Logistics has appointed former Kuehne + Nagel director Simon Hobbs as group chief executive.
The role is a newly created one at Kinaxia, which has grown rapidly in the UK on the back of 13 separate acquisitions since 2012. Most recently it acquired David Hathaway Transport in Bristol in May 2019.
Kinaxia Group founders Graham Norfolk and Peter Fields said in a statement: "In line with our recent growth and increase in scale and complexity, we have reviewed our management structure and created a new role of chief executive."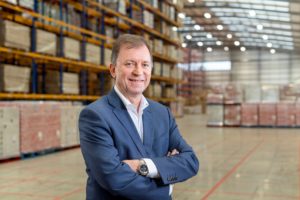 Hobbs said: "We are confident that our 'Family of families' approach will result in sustained growth as we continue to offer local expertise, ownership and entrepreneurship with a national capability."
Kinaxia has two million sq ft of warehouse space and offers packing, e-fulfilment, returns management, and storage services. It has 1,800 staff and 920 vehicles
Hobbs spent two years as a director at K+N with responsibility for aerospace, defence, hi-tech, pharma, industrial and automotive between 2017 and 2019.  Before then he was senior vice-president for business development – UK, Ireland and Nordics at CEVA Logistics.