Kinaxia Logistics has acquired Telford haulier AJ Maiden & Son – its seventh acquisition since its creation in 2012.
Maiden's of Telford was first formed in 1931 and offers three core areas of operation: general haulage, including contract distribution; pallet distribution through the Palletforce and TPN networks; and warehousing and storage. Kinaxia said Maiden's central location strengthens Kinaxia's coverage of the Midlands and Wales.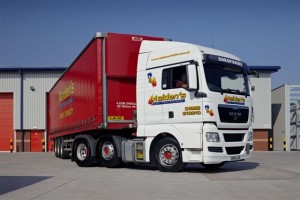 Kinaxia was formed in 2012 with the acquisition of Bay Freight. Other companies within Kinaxia include: William Kirk, NC Cammack & Sons, Foulger Transport, Lambert Brothers Haulage, and Panic Transport (Contracts).
This acquisition will take Kinaxia's turnover to £75 million a year, with 900 staff and 450 vehicles.
Kinaxia director Peter Fields said: " We are proud to welcome Maiden's of Telford to Kinaxia and anticipate that their distinctive family culture and established levels of customer service will fit perfectly with the decentralised w ay that Kinaxia operates.
"Our aim is to build a flexible and efficient, service – focused UK haulage and warehousing group and it is anticipated that Kinaxia will make further investments in the next 12 months."