Kinaxia Logistics is to take a 116,000 square foot warehouse at DIRFT, which it says will become its flagship site when it opens later this summer.
The warehouse will have capacity for 24,000 pallets and a multi-bay racking system. It will use a Red Prairie warehouse management system.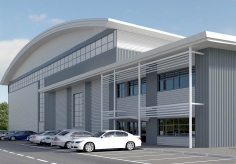 Alongside the warehousing, dedicated transport services will also be available to customers through Panic Transport (Contracts), is rugby-based subsidiary or any of the nine haulage companies currently within the Kinaxia Group.
Kinaxia has grown dramatically with a series of acquisitions over the past couple of years. Member companies include Bay Freight, William Kirk, Cammack, Lambert Brothers, Foulger, Maidens, Mark Thompson and BC Transport.
"The acquisition of this new logistics facility is a significant investment for the Kinaxia Group and part of a long-term plan to build a flexible and efficient, service-focused haulage and warehousing group covering the UK," said Graham Norfolk of Kinaxia.
DIRFT, the rail-link distribution park owned by Prologis, is located next to the M1 north of Daventry, and includes warehouses for Eddie Stobart, Clipper, Tesco and Sainsbury's.
"We are a business with growth in mind and Prologis was able to offer us the combination of the best building, in the best location for our customers and network with features which support a sustainable and cost-effective operation."