Building products manufacturer Knauf has awarded a £4.5 million contract to CM Downton covering full loads from its factory in Sittingbourne to customers in the South East and throughout the M4 corridor.
The three-year contract is worth approximately £1.5 million a year.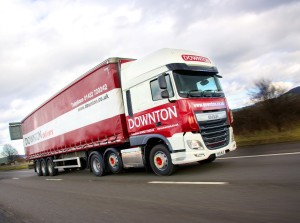 Knauf manufacturers a range of plasterboard products and associated items at plants in Sittingbourne, Kent and Immingham, Lincolnshire. The Sittingbourne transport operation has historically been managed by a single supplier, however for the latest award the company decided to split the contract between four operators with regional strengths and expertise. Downton was awarded the component covering transport from Sittingbourne to customers in the South East and along the M4 corridor, the South West and Wales.
Downton will deliver an average of 18-20 full loads of Knauf product each day with seasonal peaks adding up to 25 per cent to the workload. The majority of loads are delivered to Knauf stockists including builders' merchants, DIY retail groups and specialist suppliers although some will be delivered direct to major construction projects.