Knights of Old has signed a contract making UniCarriers its sole supplier of industrial indoor and outdoor trucks.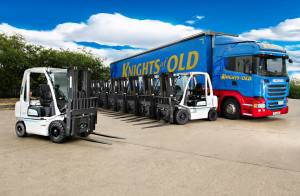 Up until now the company's forklift truck fleet has been split between internal and external material handling equipment.
Logistics director Kelvin Gingell said: "We have a long working relationship with UniCarriers (formerly Atlet). We went through a robust tender process, giving our operators the chance to test drive the potential new equipment and benchmark against competitors.
"We have a flexible agreement that enables us to swap out kit throughout the term of the contract depending on our ever evolving business requirements."
UniCarriers will supply equipment to six different sites. It recently delivered 27 trucks to three depots.