Lambert Vet Supply, a US distributor of vet supplies, has signed an agreement with Körber to deploy 24 autonomous mobile robots (AMRs) from Locus Robotics in its 'newly partnered warehouse network' in Alabama.
Körber has said that these will integrate with Lambert's existing K.Motion Warehouse Management System (WMS) to 'drive both efficiency and workplace improvements'.
The robotic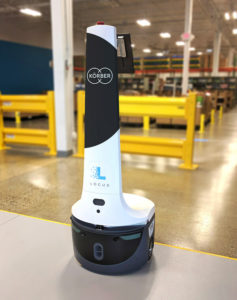 s-as–a-service (RaaS) provided by Körber is designed to allow businesses to scale up and down to quickly adapt in order to respond to peaks in demand.
Tammy Schmidt, Vice President and Chief Operating Officer at Lambert Vet Supply, said: "Being able to seamlessly integrate and ramp up and down, the Robots as a Service provides us with the needed flexibility and scalability to meet our growing e-commerce customer demand while maintaining a smaller dependable team of warehouse associates and reducing onboarding of new warehouse associates to minutes from weeks."
In addition, the company claims that the RaaS has led to improvements in efficiency, productivity, and employee health and safety for Lambert.
John Santagate, Vice President of Robotics Software at Körber Business Area Supply Chain, said: "The subscription-based model is ideal for Lambert as it provides a fast, cost-effective, flexible, and scalable robotic solution that will drive operational efficiency – next to making great strides to take account of their associates' health, safety and wellbeing."
The technology from Locus Robotics can reduce the distance that staff are required to walk by approximately 50%.
Körber Supply Chain (Stand i1030) and Locus Robotics (Stand i710) will be at the co-located IntraLogisteX and Robotics and Automation on 28-29 March 2023 at NEC Birmingham. For more information, please visit www.intralogistex.co.uk or www.roboticsandautomation.co.uk.