Industry experts share insight & best practice to help you attract, develop & engage talent. 
Struggling to attract new talent? Need to update your learning & development strategy to develop your team? Want to find new ways to engage your current workforce? Then it's time to attend Talent in Logistics' Conference, where you will be provided with the skills and knowledge to help you do this. Book Your Conference Place Today!
The third annual Talent in Logistics Conference is set to be the biggest ever with an incredible line-up of seminars, exhibitors and live competitions for 2019.
The event, which takes place on the 27th June at Marshall Arena, Milton Keynes, will give delegates the skills and knowledge to make real improvements to people strategies, employee engagement and talent attraction through expert insight and actionable guidance.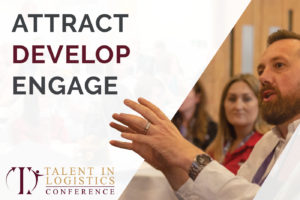 This will be delivered through a series of talks and seminars in three theatres, each with a specialised theme: Attract, Develop and Engage. Delegates to the conference will also gain 4 hours CPD from The Chartered Institute of Logistics and Transport (CILT UK).
Speakers include none other than Steve Backley, OBE, the only British athlete to win medals at three consecutive Olympic Games. With a background in sports psychology, Steve's session on the '5 Key Principles of Performance' will explore mental preparation and identify the three main attributes which lead to success.
Gwen Carter-Powell, International Manager at Investors in People (IIP) will be taking a seminar on 'Defining Your Culture in Order to Retain Talent'. This session will focus on the key elements contributing to the rich mix of dynamics and human interactions that companies call 'culture'. She will also look at how testing your existing culture is an important stage so that you have a starting point and can direct your efforts in further adjustments that will make a difference overall.
Also taking to the line-up is Colin Donnelly, General Manager at Sainsbury's Argos with his session on 'Employee Engagement – A Success Story'. Having an engaged workforce is now a key pillar in achieving success. Colin's session will look at how their colleagues fit in to the overall strategy of the business, how they drive engagement and what motivates over 2,000 people per day to get up and work in one of their distribution centres.
There will also be a panel discussion led by Think Logistics on 'Solving the Skills Gap Through Youth Employment', which will look at the biggest hurdles the sector is currently facing and how we as an industry can raise awareness and explore the reasons millennials and Generation Z can be attracted to the roles available.
Delegates will enjoy a new and improved Info Zone, with the opportunity to get face-to-face with industry leading exhibitions including the Institute of Leadership & Management, Woodfines Solicitors and How's My Driving. Also returning to the line-up is the live final of Forklift Operator of the Year, and new for 2019, LGV Driver of the Year.
Following the conference is the annual Talent in Logistics Awards that take place at the DoubleTree by Hilton, Milton Keynes. This year will see the introduction of a number of new categories, including Rising Star of the Year, Innovation in Recruitment and Best Place to Work.
Ruth Edwards, Business Manager at Talent in Logistics, said: "This year's event will be the biggest yet and we're expecting hundreds of delegates to attend. This is an incredible networking opportunity in a really welcoming environment. We want to work collaboratively with organisations and individuals to make a difference with the challenges the industry is facing, whilst ensuring our key focus is on the people who are seldom recognised but without whom our sector could not survive."
Tickets to this year's leading conference are £95.00 + VAT, to book your place please visit https://www.talentinlogistics.co.uk/events/annual-conference/book-your-place/ or to find out more information contact the Talent in Logistics team on [email protected].