Lidl has purchased a 38 acre site at Gildersome in Leeds, which will be used for a new regional distribution centre – its 17th in the UK.
The new distribution centre, which will follow the construction and opening of new RDCs in Doncaster, Bolton, Peterborough and Luton, is set to be approximately 60,000 sq m in size. It will create up to 500 new jobs once operational.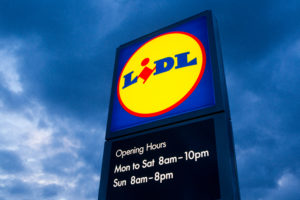 The Leeds development follows the acquisition of a site near Luton earlier in the year, and forms part of the supermarket's long term expansion ambitions, which include plans for a further four warehouses in the coming years.
Ingo Fischer, Lidl UK board director for expansion and development, said: "As we continue to open new stores and serve more customers across the country, it's important that we also continue to build foundations for the future. This latest investment joins a long line of Lidl warehouses set to open over the next seven years, which are all vital in supporting our growth."
Lidl is investing £1.45bn on expanding in the UK across 2017-18, and also follows the opening of two new RDCs in Exeter and Wednesbury in 2017. The retailer first opened its doors in the UK in 1994 and now has over 720 stores nationwide.