National chilled food and drinks logistics company NFT Distribution which is part of EV Cargo has invested in 40 Schmitz Cargobull tri-axle reefer trailers which will help reduce fuel use and emissions.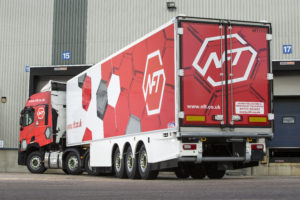 The trailers have a light and robust semi chassis which increases payload potential offering operational benefits and reducing environmental impact.  The chassis also features Schmitz Cargobull's FERROPLAST technology which offers optimum insulation, helping cut fuel usage for the refrigeration unit.
Heavy-duty, self-supporting floors means that the trailers sit 85mm lower than traditional units, helping reduce drag and further cut fuel consumption. The trailers have also been equipped with aerodynamic body kits, including side skirts and roof diffusers for motorway and trunking work. These additions are expected to further reduce emissions by up to five per cent.
Schmitz Cargobull has also incorporated a tyre pressure refill system which monitors tyre status and automatically maintains each tyre at the optimum inflation level. This extends tire life and further reduces fuel costs.
"Schmitz Cargobull's trailers are robust, reliable and cost-effective so will reduce downtime for us, and the light chassis and extra body kits will really help us reduce fuel use and emissions," said NFT Distribution fleet engineer, David Seaton. "We'll be running these trailers for eight years, so the benefits will definitely add up in cutting our carbon footprint, which is important to both us and our wider EV Cargo group."