The global economy was pretty choppy even before Covid-19 caused its chaos. But what are the prospects for international logistics, when supply chains are increasingly looking at resilience and reshoring? Michelle Mooney investigates.
Before Covid-19 hit, tensions around international trade had been high. With an ongoing trade war between the US and China, supply chains between the world's two largest economies have threatened to decouple and trends such as resilience and reshoring have been pushed to the fore – much to the joy of protectionists. These trends have been the same in the UK, perpetually on the brink of a no-deal Brexit. This again has tested the resilience and promoted reshoring. After Covid-19 hit, global trade volumes slumped, and it could be that the trends of the past few years have been exacerbated by recovery from the pandemic.
After the initial international lockdowns, there was a noticeable shift in how to move goods out of China, says Monica Truelsch, senior director of product management at Infor: "In March, as more countries imposed lock-downs to control the spread of coronavirus, consumer and manufacturing demand dropped sharply, and emphasis shifted from getting goods out of Asia by any mode possible—to cancelling supplier orders and arranging to hold shipments within the countries of origin, because domestic warehouses and distribution centres were suddenly overflowing with inventory."
There is hope in the logistics industry that things will return to normal in time, and now is the most crucial moment for recovery. Victoria Ormond, partner at Knight Frank, says that when countries first started going into lockdown, the shipping of bulk raw materials was greatly impacted because Covid-19 reduced the need for manufacturing and energy supply. The Baltic Dry Index, which benchmarks the price of shipping major raw materials by sea, has fallen by 23.4% in the past year, but in July has staged a 7.7% recovery as bulk shipping returns to normal.
For container shipping the drop has been equally precipitous. Container volumes at A.P. Moller – Maersk, are expected to drop by anywhere between a fifth to a quarter in the second quarter of 2020 (official figures will be revealed in mid-August). The world's largest container shipping company was forced to idle some 90 sailings in the first half of the year. Kuehne + Nagel saw a 9.4% turnover drop in its shipping business in the first half of the year, with reduced sailings and a significant decline from its "high-yielding" SME customers.
Mike Riegler, vice president of sales, LSP, and ocean services at Infor, says that if economic activity picks up late in the third quarter and into the fourth quarter of 2020 some ocean-bound freight could be pushed onto air freight, due to capacity constraints caused by increasing demand and a reduction in sailings by shipping lines. "Slowly increasing USA retail demand will begin to increase bookings as specific goods which are selling well are converted to air. However, we don't expect massive increases in this type of cargo," he cautions.
If the PR is to be believed, it was air cargo that stepped up to save the day. The sector was awash with feel-good stories of essential PPE being airfreighted to countries around the world for healthcare workers to treat patients safely.
Dr Eyden Samunderu, program director at the International School of Management (ISM) in Dortmund, Germany, says that moving PPE by air barely scratches the surface when it comes to returning the international logistics volumes to pre-Covid-19 levels – especially as 40% of annual global air cargo is typically transported in the belly hold of passenger aircraft: "Industry-wide cargo tonne kilometres (CTKs) contracted by 15.2% year-on-year in March… Despite the severe sharp drop in commercial air passenger capacity, the air cargo industry has been attempting to operate at capacity levels in order to transport PPE manufactured in Asia.
"Given the necessity to send pharmaceutical products and PPE, the demand for air cargo exceeded capacity," he explains, adding that airlines operated by express and parcel delivery giants FedEx, UPS and DHL are experiencing their own capacity constraints.
Core challenges
"The other core challenge facing airlines is that the fleet distribution of their aircrafts consisted mainly of passenger carriers and this will mean either converting these carriers to accommodate cargo only operations or acquire new aircrafts. The latter is definitely non-feasible due cash constraints. Some carriers have even taken idled aircrafts out of storage and resumed operations in order to capture additional volumes. This has subsequently pushed cargo rates by 10% but still falling short of salvaging the fortunes of airlines this year. Thus, the revenue black hole is far too deep!"
The tentative return of passengers to airports will be a relief for the air cargo industry just as much as for the passenger airlines who were forced to ground the majority of their fleets during the pandemic, says Ashok Rajan, senior vice president & head of cargo and logistics at IBS Software.
"With a drastic decline in passenger routes, the total capacity available for airfreight took a direct hit, whilst revenues have been less adversely affected on the back of yields spiking on account of lower available capacity. This however is a temporary phenomenon."
Although the pandemic disrupted volumes, it has provided a wakeup call, says Rajan: "The challenge of continuing to provide a service throughout the height of the pandemic could put the sector in a surprisingly strong position.
"The industry has always lagged behind others with digital transformation, but the pandemic has given it a much-needed push towards innovation. Priorities now include investing in digital channels for selling, greater automation in warehouses making them contactless, artificial intelligence-based tools in forecasting and planning as the new normal is an unknown entity. Not only does the introduction of technology put safety first, but it also increases efficiency, and reduces cost per shipment through better disruption management."
Infor's Riegler explains that demand for the sector was down by 20% year-on-year in May, with fleet capacity down by 34%. He says: "The supply of capacity and aircraft will be influenced by market demand. We are now seeing increasing cargo demand for consumer products, instead of just primarily PPE. Some of this is due to critically low inventory levels in the USA, even for basic commodities like undergarments and socks.
"Obviously, some airlines will not survive this crisis, and we have seen multiple bankruptcies already.  However, many airlines have capacity ready to deploy based on market conditions, and of course the resumption of passenger service will help as well." So, it is only a matter of time before this capacity is ready to use on a larger scale, and the sector is already showing signs of growth."
Knight Frank's Ormond says: "We are seeing companies reliant on international freight reaffirm their commitment to air, for example Amazon, which has been extending its fleet of cargo planes over the last year or so. In June, for instance, the company announced the leasing of a further twelve aircraft, one of which has already joined their operations."
However, there could be a third factor when it comes to modal shift in the supply chain, cautions John Manners-Bell, chief executive of Ti Insight: "The big winner was the rail sector.," he says of the impact of Covid-19.
"Rail freight on China-Europe routes received a boost from the cessation of air passenger services to the country and shipping lines blanking sailings. When services on the route started operating again in March, volumes saw a spike with the number of containers increasing by a third year-on-year and trains operating at full capacity. Rail provides a quicker option than shipping but is cheaper than air cargo."
But Charles Binks, partner and department head of logistics and industrial at Knight Frank, says: "Overall, we have not noticed significant movement with regard to modal shift. Nevertheless, reduced numbers of passenger flights have certainly put pressure on global e-commerce operations – both in terms of inbound product and outbound deliveries.
"In the event that air travel does not return to pre-Covid levels, this will likely provoke further changes," he says, citing the case of UK e-commerce retailer, the Hut Group that announced in May that it would be setting up its own air freight operations out of Manchester airport, having leased two planes from Singapore Airlines. "This is largely to ensure they have more control over the supply of goods from Asia in the future.
"We are witnessing the initial signs of a move towards holding greater 'domestic' inventory, which will hopefully lead to increased demand for warehouse space, as companies look to increase supply chain resilience," says Binks.
"Additionally, operators will also increasingly look to alternative ports of entry into Europe in a bid to shorten delivery times from Asia. Consequently, there is likely to be greater emphasis on the southern European ports, as opposed to their larger northern European counterparts."
"For instance, recently, we have noticed an increase in interest in the Port of Pirraus in Greece. Crucially, looking to alternate ports such as these can bring the benefit of potentially reducing shipping times by up to eight days."
Nicolas Ethevenin, director of product management at BluJay Solutions, says that "the differences in volume are very specific to the sector involved. Where there have been huge increases in demand for online retail logistics (in some cases a 40 – 50% increase), there have also been sharp decreases where the manufacture of some projects has ground to a halt." This could be due to "breaks in funding" of a "lack of consumer demand", he adds. Yet despite the particularly negative impact the automotive and industrial sectors have faced, there has been an increase in demand "post-Covid, [meaning]it's possible for freight volumes to bounce back.
Closer to home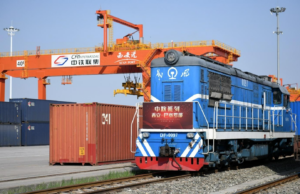 Shortening supply chains through re-shoring, particularly for manufacturers in Western markets, is a trend that is gathering momentum says Manners-Bell with Covid-19 disruption to manufacturing operations of supplies based in China "compounded by the failure of air cargo systems and the blanking of sailings".
"These challenges followed a prolonged period of trade war hostilities between the US and China which have led to tariffs being imposed on many products. This had prompted many global manufacturers to assess their sourcing strategies even before coronavirus," he says.
Yet, Manners-Bell does not believe this will lead to a "paradigm shift" in global supply chains: "After all there are multiple good reasons for manufacturers to continue sourcing goods from China. These continue to include low labour costs; developed production 'eco-systems' and expertise; historically low and stable shipping rates; strong transport infrastructure links; and a lack of production/labour force scale and know-how in developed markets.
"These factors above do not take into account the priority being afforded to the policy of re-shoring by governments or the imperative to de-risk supply chains. As regards the former point, President Trump has already ratcheted up tariffs on Chinese goods several times over the past few years. This has had a major effect on many manufacturers which have sought, as a result, to diversify their supply base throughout Asia and elsewhere. The beneficiaries of this will be manufacturers and logistics companies in countries such as Vietnam and Cambodia or Mexico and Canada."
Sustainable international logistics?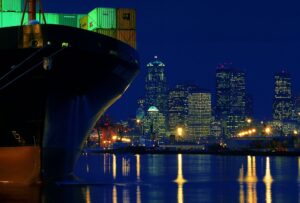 Infor's Truelsch says that sustainability is becoming systemically incorporated in supply chain operations and decision support technologies."
"At the end of last year, the shift to low-sulphur fuel in ocean shipping was causing some industry concern about increased freight costs for container shipping in 2020, though we saw no significant shifts toward reducing global shipping needs. But those concerns have been largely eclipsed by Covid-19 economic impacts."
Unfortunately, environmental protections may be neglected as businesses and governments deal with "immediate impacts" and "priorities" of the pandemic response.
Knight Frank's Ormond suggests that there may be some time before things can return to normal and that sustainability will not be the most important issue to tackle: "Robust and secure supply chains still need to be time and cost efficient. To this end, conversations around reshoring, onshoring or nearshoring, which could impact international logistics, are being driven by geo-politics and the experiences of Covid-19 as well as sustainability. As global e-commerce grows, this is also likely to apply continued upward pressure, supporting international logistics volumes."
Binks, also of Knight Frank, adds: "Sustainability is definitely emerging as a consideration, particularly as consumers are becoming increasingly aware of the global environmental impact of their purchases."
"However, for the most part, we expect the main drivers of change post-Covid-19 to be focused around supply chain resilience, alongside the ability to adapt global supply chains to react swiftly to changing consumer conditions. This has been an issue that has been particularly exposed by the lockdown measures imposed by governments to combat the crisis."

You can now book your table for the night of the year in supply chain, when the Supply Chain Excellence Awards – sponsored by Clipper Logistics, DP World, Geek + and Unipart – take place on 12 November.