Safety in the warehouse is paramount, but maintaining safety when operations peak requires robust processes. Augmenting this with the latest technology offers the most pragmatic approach to safety. Christopher Walton investigates.
The Covid-19 pandemic means were all now used to the phrase social distancing: a single, consistent safety message has endured given the need for physical distancing to curb the spread of the disease.
A straightforward safety message is also at the heart of keeping employees safe in the warehouse. Forklifts are big, heavy and move at speed, so reducing – if not eliminating altogether – interaction with employees is paramount for safety.
According to the Health and Safety Executive, there were some 16 fatalities in transport and storage in 2018/19. For everyone in the sector this is 16 too many, as are the estimated 581,000 workers who sustained non-fatal injuries across all sectors of the economy.
Jagjeet Singh Virdee, Managing Director of risk management company Inspire International, says all accidents can have damaging consequences for warehouse managers and the businesses themselves.
"Most importantly if the HSE become aware of any issues it could result in a loss of reputation, prohibition or improvement notices and/or fines, and in some more serious cases even prison sentences if involvement from police and local authorities is required.
"Alternatively, for incidents which are not fatal, many other issues can arise resulting in additional costs. These include anything from the damage or loss of product and raw materials, to equipment repairs, extra wages, or overtime working / temporary labour.
"In most cases, incidents result in a loss of production due to staff being signed off injured and additional time required from warehouse managers to investigate the incident itself."
Familiarisation experiences
Virdee says that issues arise when forklift operators are unaware of existing hazards – this can be particularly prominent with new operators.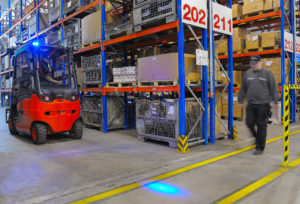 "Too often, employees are given a certificate to operate without any suitable job familiarisation or training within the areas of the warehouse they are working in," he says, adding that the introduction of other equipment used in loading and off-loading – including ramps, cages, fork extensions or a new forklift can take place without conversion training or familiarisation experience.
Virdee says that over confidence is often an issue with forklift operators: "This can lead to a number of issues including driving while the load is too high, not observing surroundings or looking in the direction of travel, particularly while reversing or moving forward while not being able to see over or past the load they are carrying, driving unladen with the forks raised too high or not paying attention to blind corners."
To that end Mitsubishi has introduced a safety zone system, specifically designed to maintain a safe distance around a forklift. The 'safety zone projects bright red beams onto the ground all around the perimeter of the truck creating a 'no-go' area. This means pedestrians know to avoid entering the 'exclusion zone', keeping them at a safe distance.
Unlike audible warnings, which can be lost in a noisy, busy warehouse or if employees are wearing ear defenders, having a light system means you can see the warning at the ends of aisles and at blind corners. Mitsubishi are offering the technology on new models or retrofitted to existing equipment.
Stewart Gosling of Red Diamond Distribution, the UK distributor for Mitsubishi Forklift Trucks, says: "This pedestrian safety alert system uses LEDs to cast bright, bold red lines on the floor behind and to the sides of the truck. These clearly show — at a glance — the distance that must be kept by pedestrians in order to work safely when forklifts are in the vicinity. That visual clue can prove particularly crucial on a busy site."
Linde too has a similar offering as an optional extra on its E10 stand-on electric truck in the shape of the Linde BlueSpot and Linde TruckSpot safety systems that warn pedestrians of danger by means of signals projected onto the ground.
Inspire's Virdee also says that "Drivers need to be regularly updated on any changes to their working machinery or environment," he says, "[while]regular maintenance checks must be performed to ensure the safety of the forklifts, including recharging of forklift truck batteries which can lead to potential explosion through release of fumes."
To that end, Stephanos Kanidis, Lead Technology Strategic Advisor at battery manufacturer Sunlight says that recognising the range of hazards and risks batteries present offers a chance to design a system that can mitigate against risks like acid spills and fires.
He says that many warehouses still widely use lead acid batteries but, in comparison to more advanced alternatives, their charging times are longer.
"This presents a challenge which can be overcome by having dedicated charging rooms for them, equipped with all the necessary measures for fire protection, like walls built of appropriate materials, sprinklers and fire extinguishers.
"Charging rooms offer the opportunity to integrate automatic watering systems and systematise a process critical to maintaining safety. Not only does this offer opportunity to extend the battery lifecycles but it also prevents sulphuric acid spills, which is the biggest hazard lead acid batteries present.
"When dealing with lead acid batteries, it is best to use acid-resistant goggles and gloves. Proper disposal of these substances can avoid seriously harmful poisoning and our lead acid recycling facility allows us to do this effectively."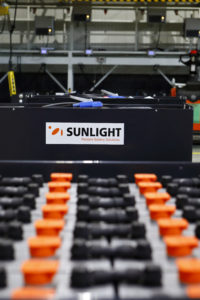 Kanidis says the primary safety concern with lithium ion batteries are the risk of fires: "These can happen through a higher then specified temperature increases by overcharging, deep discharging or mechanical faults. To mitigate these risks, batteries are manufactured with in-built safety measures. We ensure optimal thermal stability within our range to avoid such events from happening."
Sundial's Li.ON force range uses high current fuses, temperature control and monitoring against overcharging, deep discharging, and short circuiting. Furthermore, to provide warning against a possible hazardous situation, it also incorporates cloud connectivity functions which can send alerts via email and includes a maintenance diagnosis.
"As technology continues to evolve, more of the thinking around safety and maintenance is taken care of. That is not intended to create complacency, rather change the way we monitor battery function and performance," he says.
Bringing IT into the process has seen forklift vendors like Doosan introduce cloud-based telematics to its fleet offering. Doosan uses wireless communication to provide updates and reports on each individual forklift truck's performance.
This means instant access to service & breakdown history, battery charging/discharging, fuel efficiency and operating hours – including monitoring working/ non-working hours within daily operations.  The system also records vehicle speed and any shocks, and alerts are automatically sent to both the driver and manager when a speed limit is exceeded or if a shock is recorded.
Furthermore, it is worth considering that warehouses are under more pressure that before, and the boom in e-commerce has resulted in skills shortage in the sector. Rapid on-boarding of staff means employers need to consider the health and safety of current warehousing employees as demand reaches record levels.
Phil Chesworth, Managing Director of Midland Pallet Trucks, said "With candidate shortages hitting hard across both warehousing and supply chain sectors, it is imperative that employers look at ways to safeguard the health and safety of current staff as the industry prepares for the busiest year on record.
"From training staff to carry out several roles as business needs dictate to ensuring a robust and plentiful supply of good quality materials lifting equipment to reduce the risk of avoidable injuries, employers should also be focusing on the wellbeing of their current workforce as well as looking to attract suitable candidates to new vacancies."
Demonstrably Higher Standards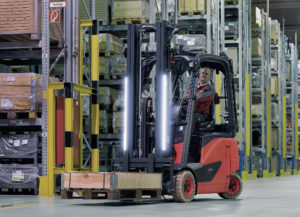 To that end there are offers in place to facilitate further improvements in forklift safety across any warehouse of logistics operation. In the summer the Forklift Truck Association (FLTA) published an on-site audit – incorporating 100 on-site checks- to demonstrate members work to "demonstrably higher standards" than non-compliant companies.
Tim Waples, Chief Executive of the FLTA, says: "There are many companies who can rent or sell you a forklift and each will tell you they're the best. But few, if any, can back that up with solid evidence. Your local FLTA Member can. To gain and retain their membership, each must abide by a stringent Code of Practice and must successfully complete the FLTA Member Audit."
Waples said the Code of Practice was evidence that an FLTA member was competent to survey a site, which meant taking the time to understand the application, safety requirements and future plans, and specifying the most appropriate equipment.
"Underpinning that Code is the FLTA's rigorous member audit," he says. "Developed specifically for the forklift truck industry, it is unlike many accreditations that use an online questionnaire (which is vulnerable to malpractice). Instead, an FLTA Quality Manager undertakes a physical on-site visit to inspect more than 100 criteria across all aspects of the member's business, including safety and environmental procedures and best practice."
Waples said that for the customer, the audit is proof that FLTA members work to standards demonstrably higher than non-compliant companies, removing a potentially weak link in a company's chain of traceability and accountability.