Investment in the right mezzanine and flooring can future-proof any warehousing operation, allowing sites to cope with increased levels of e-commerce, automation, use of robotics and the impact of a global pandemic writes Christopher Walton.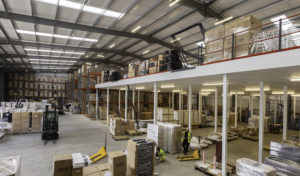 Before Covid-19 hit, demand for warehouse automation had been driven by a combination of labour shortages and e-commerce growth. Now, and remarkably quickly, that dynamic has changed. E-commerce has served society over the past few weeks in the same way as a public utility, meaning that the warehouses that support online sales are not just optional, but essential.
The immediate impact of Covid-19 on how we live and work has been striking and the long-term effects are likely to be significant says Scott Chambers, MD of MiTek Mezzanine Systems: "The lockdown environment and closure of non-food shops brought about a spike in e-commerce volumes that warehouse operators struggled to meet.
"What does this mean for mezzanine floors? Evidence in recent years from our subsidiary in Germany – one of the largest e-commerce markets in Europe – as well as here in the UK shows huge demand for mezzanines.
"This demand is principally fuelled by the need for greater fulfilment footprint to handle the profile of e-commerce orders, as well as the higher levels of returns that accompany them. And, with low vacancy rates in UK warehousing, many e-commerce retailers have relied on mezzanine suppliers to maximise space utilisation in their existing buildings. So, expect demand for mezzanines to grow significantly with the rise in e-commerce sales."
Design for automation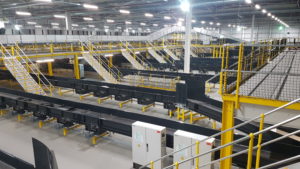 Chambers says that if you are investing in a mezzanine, you want to be sure it is fit for the future.
A major consideration, he says, must be to ensure that the mezzanine is designed to accommodate automated handling equipment. E-commerce requirements for single-item picking and efficient returns handling makes automated systems ideal, he says, but shuttle storage systems, robotic picking machines and fully laden automated mobile robots (AMRs) require exceptionally strong floors.
"Mezzanine suppliers have risen to this challenge – our own Mezzanine7, for example, is up to 7 times stronger than a standard mezzanine – but you need to check point loads carefully when dealing with heavy automated equipment," says Chambers. "While traditional mezzanine floors can typically handle around 600kg, specialist floors have a point load capacity of over 2 tonnes.
Strength is not the only requirement for automated systems, however. They also need stability, so Chambers says that buyers should be asking mezzanine suppliers about deflection resistance. Automated equipment – such as robots, optical scanners and check-weighing devices – can be highly sensitive and require low levels of vibration for reliable operation. Chambers says there is also need to specify reduced electrostatic resistance for your mezzanine to ensure optimal operation of automated systems.
Other differentiating factors when it comes to mezzanines are flexibility, longevity and sustainability, says Chambers who also urges buyers to get a supplier involved in projects as early as possible.
"Flexibility can be increased through modular design of the floor itself, as well as by the addition of supports for suspended conveyors, machinery or utilities. Lightweight options for these – such as the MezzHead brackets for Mezzanine7 – avoid the need for steel beams that are not only expensive but also heavy, thereby reducing the load tolerance of the floor above.
"When it comes to longevity, ask whether your supplier offers reversible deck plates, as these can double the life of your mezzanine at a surprisingly affordable cost. And don't forget to enquire about warranties. In terms of sustainability, you can lower energy consumption and enhance the working environment by opting for a mezzanine that offers increased light reflection."
Reconfiguration reflections
At Xpediator its Delamode division in the UK focuse on distributing goods for retail, wholesale and fashion – especially in e-commerce. Over the course of the past year it reconfigured its Braintree, Essex, depot to improve operational efficiencies and long-term financial savings, such as reducing damages to warehouse infrastructure and equipment.
Dave Gladen, group marketing manager at Xpediator, says: "After years of relying on double-deep storage in Braintree, the system's limitations were no longer an efficient model. A high storage capacity due to double-deep storage is always at the expense of selectivity.
"A total of three pallet movements were necessary to reach a pallet in a back location: front pallet out, targeted pallet out, front pallet back in. This is a time-consuming process that potentially results in the damage of valuable stock."
Nevertheless, the double-deep system had worked for years, as many of the pallets had duplicates which is why they were directly accessible at other storage locations.
However, with a growing demand in e-commerce and rising throughput in the warehouse, the number of duplicate pallets decreased over time. Employees had to access the back pallets more often than before with increasing effort. Thus, the double-deep storage system had become unsuitable for Delamode.
The Braintree site encountered further difficulties, says Gladen: "With free moving trucks in use, Delamode reported a lot of facility damage causing issues in the racking. Also, the company had relied on short-term hire equipment from UniCarriers and other suppliers for years. For one thing, this provided a high degree of flexibility. Then again, with regard to cost effectiveness, Delamode was looking for a coherent overall concept focussing on the long-term use of material handling equipment."
For all warehouse tasks – from unloading incoming vehicles to pallet put away and pallet replenishment – Delamode in Braintree now uses a variety of UniCarriers trucks including the TERGO URS very narrow aisle reach truck which can work in aisles as small as 1800 mm.
Future-proof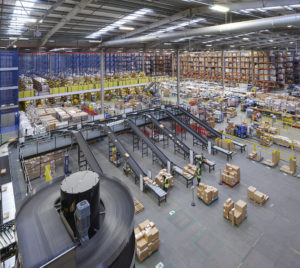 AMH Material Handling has completed a total of three projects for DHL with a combined value of £600,000 at its Hams Hall site in Birmingham. The 400,000 sq ft site handles the receiving, storage, packing and distribution of products for Selfridges' four UK stores, its click and collect service as well as its worldwide e-commerce operation.
In 2016, AMH Material Handling was asked to increase speed, accuracy and throughput capacity by automating the process of packing and despatch over the three-floor mezzanine site.
In order to automate the facility, AMH installed belt conveyors on level 2 to accommodate packing desks on either side. Personnel are able to package orders and then place them straight onto the conveyor belt without the need to manually move packaged deliveries. Items on level 2 travel towards the end of the mezzanine floor where they are automatically inducted into a powered decline spiral conveyor.
In 2018, AMH Material Handling was asked by DHL to complete additional work to the Hams Hall site. Assam Khan, operations manager at DHL Supply Chain, says: "Selfridges' e-commerce operation is continuously growing each year. As a result, we needed to expand on AMH Material Handling's initial installation in order to keep up with the demands and meet worldwide customer delivery times.
Khan said that it needed to expand the number of workbenches on-site to increase throughput and commissioned AMH to complete the additional work.
"We decided to move the store retail operation on the ground floor to the far side of the facility. This freed up a significant amount of space enabling AMH to install two additional conveyor feeds to the despatch line. This allowed us to add an additional 60 benches on the ground floor – significantly increasing packaging throughput."
Selfridges were predicting another significant increase in e-commerce throughput for 2019. In order to prepare AMH came back onto the site and replaced old obsolete belt conveyors on level 2 and installed new replacement conveyors to feed the powered decline spiral conveyor. This has allowed DHL to make both the ground floor and level 1 its main processing floors with the option of opening up level 2 as and when it is needed. During peak periods all three floors run at full capacity for 24 hours a day.
"The new three-floor automation system has increased efficiencies not only by making room for additional workbenches, but also by improving the site layout and allowing us to store products more efficiently," says Khan. "This reduces walking distances for personnel and avoids the need to pick orders across multiple floors. Furthermore, the despatch sortation system has removed the requirement to manually sort parcels by destination which would have been problematic with the growth Selfridges is experiencing."

IntraLogisteX 2020 – the UK's only intralogistics and materials handling show this year – takes place on 29th and 30th September at the Ricoh Arena, Coventry. For more details go to:  www.intralogistex.co.uk