Investment in members, hubs – both national and regional – and swathes of technology have changed the way that pallet networks do business in the UK, meaning that they entered lockdown in good health. But with the sector consolidating, what does the future hold for the hub and spoke model? Christopher Walton finds out.
Last month Pall-Ex shook the market for the movement of palletised freight by acquiring rival Fortec. The UK had been served by eight pallet networks since 2015, when UK Mail (now part of DHL) closed its pallet network division, UK Pallets but consolidation has been desired for a long-time in a sector that has struggled in recent years to find small-to-medium sized road hauliers and 3PLs to serve certain postcodes in the country.
Indeed, it is that regionality that drove Pall-Ex's decision to acquire Fortec, as group chief executive Kevin Buchanan explains: "Regional hubs are essential to our network and key to improving efficiencies and coverage in specific areas, as the location of our hubs impacts how quickly we can transport freight to customers.
"In August, Pall-Ex Group acquired the assets and goodwill of Fortec Distribution Network from Geodis. Purchased by a new subsidiary company For-Ex Distribution Network, the network will remain trading as Fortec and will continue to operate separately but share resources. This will provide us with more than 600,000 sq ft of hub capacity across our three UK hub locations."
Buchanan said the move will support the growth of pallet volumes within the business-to-consumer sector as it increases its market share and business-to-business partnerships with firms like Tile Mountain.
"This is a significant step in the new era of Pall-Ex's growth plans and secures our position as the biggest pallet network in the UK with over 165 members," he said.
Mark Duggan, managing director at The Pallet Network (TPN) says that hub strategy overall is "very important" to the success of members, as hauliers' service levels and operational efficiency depends upon three things: optimised loads, minimised mileage, and efficient hub service so their trailers return to depot in a timely and resource-sensitive manner.
"Hubs, therefore, need to conform to the Goldilocks principle – not too big, not too small but just right. Our Minworth Hub is 367,500 sq ft, which is condensed enough to allow efficient vehicle and forklift truck movements; but we have continually developed it to remain ahead of volume growth."
He says that currently the hub can load/unload 40 trailers at once and it is extending the number of bays so that a further 17 an hour can be processed.
TPN has two regional hubs in Northampton and Preston: "The regional hubs are important in allowing us to cut the journey times for pallets both originating and destined in that region and to remove some of the volume from the main hub. However," says Duggan, "this is only part of a highly analytical hub strategy.
"It is crucial to get hub strategy right if you want members to be efficient. Too many regional hubs and they end up running part-laden trucks. Too small a central hub and volume must be siphoned off to regional hubs and you lose the benefit of the hub and spoke model. Too large a central hub and members will see turnaround times diminish and don't get any of the benefits of more local hubs."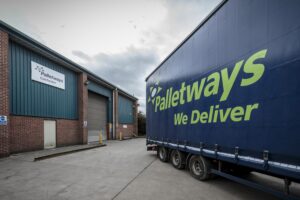 Rob Gittins, managing director for Palletways UK, says the network has long championed the regional hub model: "There are such clear advantages for members, customers and consumers that the model driven by a centralised distribution will be left behind by those businesses using the regional hub approach.
Gittins says that through regional hub model it can lower costs through a more localised freight exchange points, as well as cutting trunk distances, fuel use and costs for members.
"Not only does this have a positive impact on the environment, but it also means we can deliver improved customer service because we create the opportunity to collect from customers later in the day. For us the regional hub model is imperative to our strategy of service excellence, environmental awareness and cost efficiency. This is why we believe regional hubs represent the future for our industry."
The same level of support for regional hubs in the hub and spoke model is seen at Pallet-Track where MD Nigel Parkes describes them as "incredibly important to the overall strategy of network".
"Both the southern and northern hubs had experienced rapid volume growth as part of the strategy to increase efficiencies and further reduce the dependence upon the 267,000 sq ft main hub in Wolverhampton. Earlier this year, the northern hub in Wigan recorded its millionth pallet in less than three years of operation. Regional hubs reduce unnecessary journeys, delays and costs and, ultimately, ensure greater customer satisfaction," he says.
Bucking the trend
In May United Pallet Network began operations at its 250,000 sq ft self-proclaimed 'smarthub' in Fradley Park Lichfield, Midlands. UPN said the smarthub technology means it could manage the flow of operations smoothly across the site, and its network of over 90 road hauliers across the UK.
MD Dave Brown says that the Fradley Park site has built in capacity for projected UPN growth over the next ten years without the need to go to regional hubs, which comes hand-in-hand with a major investment in technology.
A bespoke contactless smarthub technology platform created internally – in response to requests from our membership for greater support and control – is, says Brown, focussed on "driving optimum performance" across all aspects of UPN's operation. As a result, he says that UPN is now totally contactless, particularly significant in the current Covid-19 pandemic.
"Now all inbound and outbound UPN trunks are monitored minute by minute, mile by mile, and scheduled in a timely way to ensure synergistic and speedy central sortation and pallet transhipment. In the same way that an airport handles flights UPN give member trunks "slots" to smooth flow our central sortation operation for the benefit of all of us."
A Smarthub IT app monitors and manages all trunks with GPS tracking of inbound and outbound journeys, alongside in-app digital manifests, and in-app on site guidelines. The app also receives call-in notification to indicate when on-site trunks are ready to be loaded. The app will also receive the outbound manifest directly to it as well as giving instructions to drivers, calling them in to be loaded, automatically logging site arrivals and exit of site.
Integrated with the new app is a range of Smarthub IT central sortation tools. An arrivals board displays real time expected arrivals with indications of late / early arrivals. The board also has the facility to view vehicle positions on a map. ETAs are calculated based on real time GPS locations and account for traffic conditions while a resource planning feature manages central staffing levels in line with real time ETAs. Member depots also have similar tools to book extra inbound vehicles online and to view map positions of outbound trunks in real time.
The UPN smarthub is all part of a wider swathe of investment in technology seen across the pallet networks. At Palletforce, technically EV Cargo's Express division, the strategy has been once of long-term investment, leading to its chief executive Michael Conroy stating that its technology is helping to "turbocharge" the recovery from the lockdown recession.
In October 2019 it rolled-out an artificial intelligence (AI) technology – Alliance Sense – that predicts if any consignments are at risk of service problems. Conroy says the technology helps identify deliveries that may be at risk of problems before they happen – helping members cut out missed deliveries and reducing the need for their drivers to interact with the public.
Competitive advantage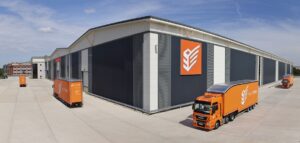 Palletforce has also deployed bespoke ePOD2 devices which Conroy says allows for safe, contactless deliveries by generating geo-tagged proof of delivery with images, whilst also providing live updates and delivery notification status. "We are unique in being the only network to scan, weigh and take an individual picture of every single pallet," claims Conroy. "We are a data rich business and we work with our members and customers to use this data to grow and enhance our respective businesses. Technology gives us a clear competitive advantage and we fully intend to invest further."
Pall-Ex has also made major investments in technology, because says Buchanan says, business-to-consumer (B2C) deliveries are the biggest area of growth for pallet networks. He says that as a result the network needs to deliver to the same high standards of visibility and pro-active communication seen in the parcel sector in order to be competitive.
"Tracking consignments within a pallet network is complex because multiple individual businesses are involved in the collection, movement and delivery," he says adding that Pall-Ex developed its own core operating system called Nexus – which is being released fully this month. "It bridges the IT systems of all network members and partners and features specific integrated tools for the B2C sector," says Buchanan.
"This is hugely beneficial to our members as their customers benefit from the latest tracking technology, at no cost to their business, and the safety assessment tools protect customers and drivers during pallet delivery. Having full visibility of consignments also improves efficiencies by reducing calls to customer services, enabling team members to concentrate on providing extra support to customers who need it."
Palletways is in the process of making its Palletways Portal available to manage all of its members freight, including local deliveries, shipments direct between members and further allowing injection to any of our hubs across Europe.  This system allows members and their customers to manage all shipments through one system. It is also developing software offerings around customer service management and commercial tools for member's sales teams of which it will reveal more of in the coming months.
Pallet-Track introduced a whole new IT platform during 2019 including a new customer-focused portal, proof of delivery, accurate and technical ETA systems to new scanning technology. Specifically for the warehouse and deliveries it rolled out a company-wide adoption of power-assisted trucks as a vital health and safety tool to aid the delivery, which, in my view, are long overdue across the pallet industry. Parkes says that doing this gave the network a "significant advantage as we saw an increase in domestic deliveries during lockdown making the experience safer, smoother and more efficient from the sender through to driver and customer".
Locked down but not out
Lockdown had a significant impact on the sector, particularly in the first few weeks of the pandemic. In early April the Association of Pallet Networks called on members of all eight of its network members – PalletTrack; Palletline; Fortec; Palletways; PalletForce; TPN; PallEx and UPN – to write to MPs and request further financial support beyond the Coronavirus Job Retention Scheme as volumes declined.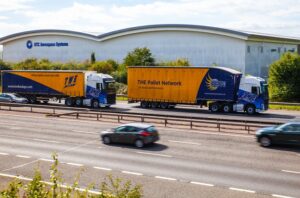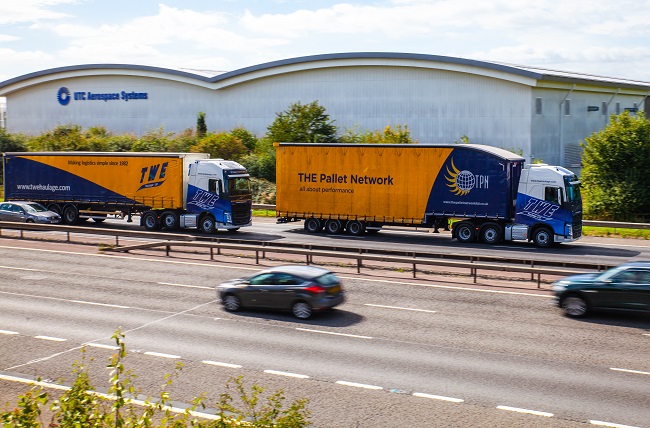 TPN's Duggan says that obviously lockdown affected all industries, including many of the pallet network sector's key customers, but none of its members stopped running during lockdown, and it maintained a full service for palletised freight deliveries.
"Our volume dip during lockdown was lighter than we'd anticipated, and since mid-May volumes have climbed strongly and in June have hit record levels," he says, adding that for TPN lockdown was the "ultimate proof of concept".
"Our members and staff have worked hard for the past five years, raising standards to almost flawless levels, perfecting protocols, ensuring that our members businesses were strong and sustainable, and developing a completely resilient distribution network. At the time, we thought in terms of 'peak-proof' resilience because surges in volume are the most common challenge to networks and their members. However, when lockdown happened, we realised: 'We've been training for and building towards this, without knowing it.  We're ready. The members are ready.' During an unprecedented and unforeseen time, our members did a fantastic job for their customers, and that makes the whole network rightfully proud."
At Pall-Ex Buchanan says that it was quick to learn from its European partners in Italy and Spain who were a few weeks ahead and already in lockdown: "As a UK board we decided to act quickly and plan for a predicted drop in volume. Thankfully, that never happened, the network became even more resilient and worked with their entire customer-base to ensure key deliveries were met."
It was the same story at UPN says Brown: "Initially when lockdown began UPN saw some effects from the pandemic. We saw a dip in volumes of up to 25% at one point. Thankfully, volumes rose to more normal levels again quite quickly.
"Indeed, today we are at record volumes for this time of year, we have just had the busiest June in our history, and July is set to follow a similar projection. We have found that there was a real surge in deliveries of home development and improvement products as you would expect with so many people at home on furlough."
At Pallet-Track, Parkes says that at the height of the crisis, volumes across the board were down by more than 20%, but it was now seeing them come back to the level they were pre-March.
"In fact, recently we have seen some of the busiest nights that are well over what we had budgeted. The resumption of higher volume is in part due to the buoyancy of a larger-than-usual business to consumer demand which has seen our members carry out more kerbside deliveries at domestic properties as a direct result of the pandemic. I don't see this trend changing as the economy emerges from lockdown, particularly as many households have now fully embraced online shopping."
Lockdown, says Brown, was a lesson for the logistics sector in general: "It highlighted to the sector the importance of the excellent flexibility of pallet networks and our ability to manage big swings in volume in a highly efficient manner. This is something we can all draw from in the future as we continue to offer that flexibility to provide upscale and downscale solutions for the market."
PalletForce's Conroy says that the business is looking beyond lockdown with 'hope and optimism'.
"As non-essential retail, manufacturing and construction builds, we envisage greater demand for less-than truck load services as businesses work to limit warehousing costs and adopt a just-in-time distribution model," he says, adding that the challenges over the last few months have forced everyone to look at their business in a different light, scrutinising every aspect of operations to reduce costs and look for additional efficiencies.
"Driven by the availability of quality hauliers and future challenges around trading and liquidity, I am certain that there will be further consolidation within our sector –  it is needed and that's something which Palletforce and the other larger networks are already reviewing and working towards. Realistically we only need three to four networks and I expect to see more progress in the future."