At a time when the planet is facing atrocities linked to man-made climate change, companies are facing the harsh reality that if they don't change their ways soon, then further destruction will be inevitable. Michelle Mooney investigates.
B2C e-commerce relies on packaging. Dispatching the goods to the customer requires robust packaging, to protect the item for damage during transit. Yet it has to be lightweight, to maximise loadfill. And the customer the packaging the item arrives in to have as little environmental impact as possible.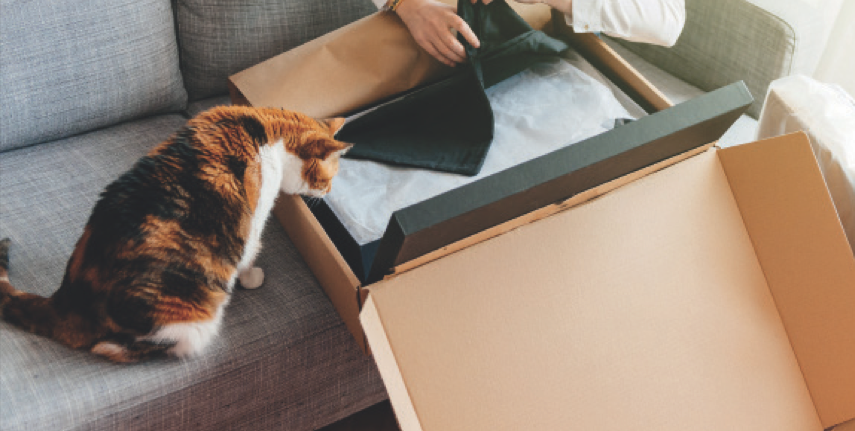 Customers are at the frontline in the battle to improve packaging sustainability, says Jim Hartshorne, MD, retail and consumer, UK and Ireland at DHL Supply Chain. Companies, he argues, face growing political and consumer pressure to reduce the millions of cardboard boxes and single-use plastic packaging solutions that end up in domestic waste streams and escape into the environment. He cites a recent DHL customer survey, the majority of respondents said that introduction of sustainable packaging materials was their number one near future packaging priority.
"As more retail activity moves online a customer's first experience of a product's packaging may occur after making the initial purchase, at the point of delivery to their doorstep. This changes the role of packaging, as it becomes an important touchpoint with the consumer to deliver an outstanding brand experience, of which sustainability is a key element."
But is the industry ready to meet this challenge? Hartshorne says that it is seeing signs that developments in packaging are struggling to keep up with changing needs.
"In particular, existing packaging systems are being tested by the rise of e-commerce and direct-to-consumer delivery, and the growing need for packaging convenience, alongside the pressure to improve sustainability, reduce waste, and eliminate pollution from packaging material."
Well designed and sustainable
But while packing suppliers are being tested like never before, it does not mean they are shirking from the challenge. Every angle is being explored to reduce its impact on the environment, the supply chain and the warehouse.
John Garner, head of business development at paper and packaging distributor Antalis, says: "By opting for a well-designed, sustainable packaging solution a customer could cut down the amount of packaging material they use which will free up warehouse space.  We recently helped a client to reduce the size of their box and removed the need for the inner VCI plastic bag. So, they now only store using one type of packaging material.
"Packaging solutions can really help to cut carbon emissions by reducing the amount of packaging used, preventing overuse and reducing unnecessary plastics. Bespoke designs can help to optimise delivery, for example, reducing a pack size makes room for more units on a pallet, which leads to more packs on a truck.  As a result, less deliveries are needed.  Reusable packaging is a major factor in reducing carbon footprints."
Garner points to one of its clients, Ansell Lighting, which needed to make improvements to cope with an increase in distribution. Antalis Packaging conducted an audit in order to understand its needs while recommendations helped Ansell achieve benefits including saving approximately 30% on packaging materials.
"We introduced new machines, environmentally-friendly packaging, customised packing benches, improved workstation efficiency and freed up warehouse space," Garner says.
And in response to this, and the growing concern about single-use plastics, Antalis has started a range of initiatives, including "[working]in partnership with waste management and carbon offsetting companies to provide a number of solutions to our customers, with advice on how they can meet their environmental objectives."
Steven Stoffer, vice-president of development at Smurfit Kappa, says that its starting point is always to look at the contents in the warehouse and create a fit-for-purpose solution which often creates more space.
"We worked with Bike Fun International to reduce the number of stock keeping units they used from 18 to 7.  We introduced a standardised, recyclable packaging solution with tailored inserts which cut costs, made the packing line more efficient and created more space in the warehouse. All our packaging is produced efficiently and 'right-weighted' to optimise resource use and minimise waste."
Reconsidering perspectives
Stoffer says: "We encourage businesses to reconsider their perspective on waste as often a waste product can be fed into other aspects of a business to great effect. Circularity plays a huge role in our approach." Garner also says that Antalis [works]"in partnership with waste management and carbon offsetting companies to provide a number of solutions to our customers, with advice on how they can meet their environmental objectives."
One important material in the sustainable packaging world is paper, which can help form a strong structure, perfect for the packaging needs of a business. Stoffer from Smurfit Kappa explains how paper can help create a closed loop and help with energy generation once its lifespan as a packing material ends.
"Paper is the most versatile and sustainable packaging option. With paper we have a closed loop due to our very high rate of collection and recycling and 75% of the raw material we use consists of recycled fibres. Our packaging can be recycled six to eight times and, once the fibres are depleted, it is typically used for energy generation or in agriculture."
It's not just paper that is the staple packaging of the logistics industry, it's plastic. As DHL Hartshorne says: 'Plastic shrink wrap is a staple packaging material in the logistics industry, as it is effective, cheap, and versatile. The downside is significant waste, which the industry needs to reduce.
"Recyclable films are one option to do this, but their use depends on the availability of suitable infrastructure. Another is the use of high efficiency fibre-reinforced stretch films. These provide high levels of protection with less material, reducing both costs and the quantity of waste generated."
Hartshorne says many users would prefer to eliminate the use of films altogether, and some suppliers have developed novel approaches to allow this. For example, he says, a water-based 'cohesive' to hold cartons together on a pallet without film.
"Other solutions involve re-usable alternatives to plastic film, including pallet lid-and-strap systems and reusable wraps. Such systems can eliminate waste altogether, but their use adds new handling units to logistics asset pools, which require processes to recover and return them for re-use, limiting their application to predictable, closed-loop supply chains."
Hartshorne also explains that DHL has worked recently on the development of void reduction technologies, which are designed to reduce the size of boxes by up to 40%. It has also worked with companies that also develop 'box on demand' equipment to not only reduce the void space in packaging, but also an overall reduction in the cardboard used as well.
"In plastics we look where possible at cold wrapping technologies with wrapping machines that can use up to 70% less plastic, and importantly up to 90% less power as they do not need heat to shrink," he says.
Increase efficiencies, cut costs
The same focus on plastics can be seen at Goplasticpallets.com, where MD Jim Hardisty, says; "As customers take their environmental responsibilities more seriously, we've seen a significant increase in demand for our recycled plastic pallets – 96% of our plastic pallets are made from recycled material."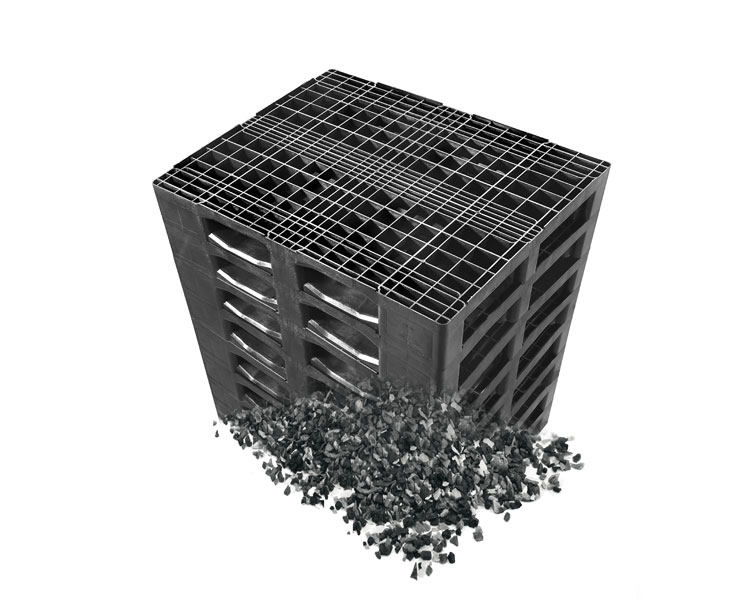 A year ago Goplasticpallets.com launched its recycling scheme, where it recovers and recycles each and every plastic pallet and box it supplies to its customers. As of January 2020 it had recycled a 239 tonnes of plastic from used or unwanted plastic pallets and boxes.
Lee Thompson, sales and marketing director at Fulfilment Crowd, says it is working to eliminate all plastic consumption from the fulfilment process, offering sustainable alternatives to all current stock packaging products. It offers a range of biodegradable mailing bags are burst, tear and water resistant. It also provide sustainable alternatives to tapes and bubble wrap, with an expanding paper void fill and biodegradable parcel sealer.
However, Thompson says that one game-changer will be artificial intelligence (AI), which it is already implementing to improve sustainability measures: "By scanning an item's barcode, the Fulfilment Crowd platform assesses the dimensions of the product and instructs the packer on the correct sized branded recyclable cardboard box for delivery, saving on unnecessary cardboard waste."
This, he says, solves the problem of ridiculously mismatched items and packaging. But AI can also increase efficiency, cut costs, and reduce emissions in the long run, he argues.
Thompson says that Fulfilment Crowd is using AI across an international network of warehouses and dispatch centres in order to reduce carbon emissions: "The Fulfilment Crowd network model decentralises stock distribution across its centres in the UK, EU and US (with new locations in Middle East and Australasia planned for 2020). By using AI the platform routes every order to the centre that is closest to customer and then calculates the lowest carbon shipping option that is available through trusted delivery partners."
This, he says, ultimately "reduces parcel miles, costs and delivery timescales, simultaneously improving the customer experience and environmental impacts." By using technologies such as AI, as well as creating packaging that creates less CO2, Thompson says that companies can begin to tackle the problems that arise with man-made climate change.
This feature originally appeared in the February 2020 edition of Logistics Manager
---
Click here to subscribe to the print edition of Logistics Manager