It happens so seamlessly, but RFID and barcoding technology plays a seamless part in our lives. But how do we use a mature technology to reduce the environmental impact of logistics and make life easier for businesses throughout the world? The answer is not as easy as you think, reports Jennifer Ubah.
For track and trace in the warehouse there are two options: barcoding and RFID and both are mature technologies, tracing their history back to the 1970s. You would think by this point they will have found a way to live together.
"A key point to make is that it's not a case of barcodes versus RFID, they are all complementary technologies," says Dr Tony Kington, chief executive at RFID vendor Omni-ID. "RFID and barcodes are part of the overall solution. Together with IoT technologies and the connectivity speeds and data capacity enabled by 5G, barcodes, readers, and RFID form the core ingredients for automated data capture. This is the foundation of the information revolution."
So, while RFID is the platform for a more integrated and automated future in the warehouse, hasn't the argument been the RFID has never taken off in the way the industry thought it would?
"I wouldn't say that RFID has struggled to gain traction," says Kington. "It simply hasn't yet become the pervasive answer to every problem in the industrial sphere. There is also an adoption cycle. In the consumer market, RFID is firmly established in our lives for anything from opening our cars, allowing entry to our place of work, or hotel room, and paying for our travel on London Underground and buses using Oyster cards and contactless payments."
Near-field vs line-of-sight
Barcodes are less expensive and are designed to be scanned one at a time, while RFID tags can be scanned all at once. Barcodes require that the scanner keep a line-of-sight with each code, while RFID is a "near field" technology, so the scanner only needs to be within range of the tag to read it.
Exporta, which supplies plastic packaging and transportable pallets, recently introduced an assets tracking system for Reach Printing Services. Reach is a third-party contract print provider in the UK, that had a costly problem – it was losing pallets. To help eliminate this asset loss Exporta solved this issue by using barcoding labels with integrated RFID, so each pallet can now be tracked and traced at any point in the network.
Exporta updated an old pallet storage system to achieve improved efficiency, compliance and the exact solution Reach needed, all by revolutionising their transportable pallets.
Reach first contacted Exporta in August 2018 with a requirement to fix a couple of specific problems it was having with its pallets. The first problem was that the pallets were breaking and not giving Reach the right return on investment. The second issue was that it was also losing pallets from its network.
Exporta and Reach went through a process of testing samples of different pallet types and configurations to see which worked best. They selected the 01-LPN1210G5 Heavy Duty Monobloc Industrial Pallet with an open deck and a 5-runner configuration.
The second challenge in helping to reduce asset loss was solved more innovatively with two specific developments for the pallet. First, Exporta made the pallets out of virgin material in yellow and added the Reach branding in blue. This made the pallets distinct in colour while complimenting the brand identify, making them useful for marketing purposes.
Once all the specifications were agreed, an order was placed in February 2019, and the manufacture of the bespoke pallets started. By May 2019 all deliveries were completed and received.
Reach out
"In this process, we added value to the customer by not only supplying a suitable pallet but through working closely with them to create a unique solution for them: fully trackable and traceable," said Don Marshall, head of e-commerce and fulfilment at Exporta.
"The trial with Reach has gone very well, better than expected and now that they have placed a subsequent order we are confident that not only are the pallets the right ones for their requirements but that the RFID tracking works as intended and delivers tangible cost benefits through better control, visibility and loss prevention.
"We are now looking to extend this type of RFID tracking system, combined with our products for many customers across several different industries. I personally looked at RFID several years ago for a retailer operation but was unable to prove the cost-benefit at the time, however with the advances in technology in the tags, and especially for the readers and system integration side, the costs have reduced significantly making RFID a viable option in many, but not all use case scenarios," Marshall added.
"The usage of RFID itself basically provides you with means of being more productive on your inventory, which means you have more return on your investment capital," says Francisco Melo, vice-president of global RFID at Avery Dennison.
This, says Melo, helps companies like sports retailer Decathlon improve their bottom lines by improving their inventory through reducing out-of-stock and increasing sales. Last year it marked 15-years in partnership with Decathlon, which has seen reductions in its environmental footprint with RFID.
Smart facing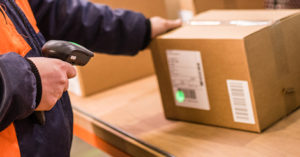 Avery Dennison is providing Decathlon with its RFID SmartFace technology which increases efficiency in Decathlon's manufacturing process by creating one sew-in label. It also reduces environmental impact by using Avery Dennison's patented SmartFace Technology, which results in a thinner and more flexible product, while removing the PET layers from the manufacturing process.
Avery Dennison has also aimed to improve the sustainability of the RFID inlays themselves by using a proprietary cutting process to make the antennas from aluminium, increasing the end-to-end solution recyclability.
"[For] the solution that we provide to Decathlon, by means of labels and printed fabric labels that have less PET and therefore are more sustainable than if they were deploying a more traditional RFID solution, it enables them to have a single label versus multiple labels," says Melo.
Many other products on the market today contain several labels- one for the import data, one for care and one for the contents, among others, Melo says: "The logic of this unique label is 'how do we integrate everything into one so we make it simpler, we make it easier and faster to be applied at scale?'"
With 884 stores in over 21 countries, Decathlon is a classic example of a company with a lot of moving parts. Making sure everything gets where it needs to be in the most efficient manners, with the least negative impact on the environment, will be the challenge for all RFID and barcoding technology providers.
Evrything everywhere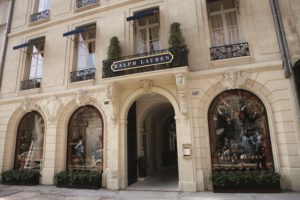 Ralph Lauren is digitising its entire product line, beginning with the Polo brand, through working with real-time Internet of Things software firm Evrythng and global materials science and manufacturing company Avery Dennison.
Evrythng is responsible for the data infrastructure and product digitisation, which is managed on the cloud, while Avery Dennison manages the creation and printing of the product labels. For Evrythng, this includes the input of information at the item level during production so that each individual item maintains a unique digital identity that corresponds with its physical product twin. This means that Ralph Lauren, and all of its customers with a smartphone, finally gain true transparency and authenticity.
The partnership with Evrythng and Avery Dennison is also designed around sustainable materials and traceability, starting at the raw material phase.
As 5G becomes more widely available it will help improve the speed at which remote access points are able to feed data back, the rapid data capture enabled by active RFID devices will enable more industrial applications to make use of the data capture and real-time asset monitoring, tracking and management of IoT devices.