A supply chain can make or break an SME. Either it trades on its efficiencies or is dragged down by its inefficiencies, and the 2020's promise more challenges – and opportunities – than ever before. Christopher Walton investigates.
Being an SME isn't easy, but it doesn't stop the number in the UK from growing. According to the Federation of Small Business there are 5.82 million small businesses (defined as in the UK as 0 to 49 employees) at the beginning of 2019, this was up 3.5% year-on-year.
Throw in medium-sized businesses (some 35,600 of them with 50 to 249 employees) and, according to the Department for Business, Energy & Industrial Strategy SMEs account for 16.6 million jobs. The SME is the engine room of the British economy.
Yet it is hard to generalise about the SME as an entity with a supply chain. Some SME start-ups are disrupting their markets because they can run a lean supply chain – e-commerce fashion housing some of the most obvious examples – while other SMEs are well established businesses with well-worn supply chains.
Managing Costs
Yet one commonality is the need to manage costs. As a start-up the cost of establishing logistics infrastructure is essential, especially if you're looking to benefit from the very latest in automation technology or are looking for your warehousing environment to be dependent on cutting edge software.
John Perry, managing director at management services provider SCALA, says that the years of uncertainty surrounding Brexit put a major squeeze on SME supply chains: "SMEs' capacity – or lack thereof – to stockpile materials and goods is an important issue to consider.
"On top of being extremely costly, stockpiling also results in businesses having a large amount of money tied up in inventory, significantly increasing their working capital and potentially creating cash flow issues further down the line. This is particularly crucial for SMEs, which can naturally be far more seriously affected by financial issues than larger organisations," he says.
According to Perry, there are other alternatives to stockpiling that SMEs can explore to minimise Brexit's impact on the free movement of goods. He points to registering for HMRC's Transitional Simplified Procedures (TSP), which are specifically designed to ease movement of goods into the UK by simplifying customs declarations.
Faced with such inefficiencies and challenging in scheduling and a lack of end-to-end visibility, it is easy for an SME to play it safe with industry standards, says Alistair Laycock, director, EMEA, at software provider Haulmont.
"At best, such an approach delivers the same benefits as competitors on the same platform. Rather than trying to squeeze out percentages of value by implementing and tweaking
off-the-shelf packages, custom developed solutions can provide a number of benefits over and above efficiencies from automation," he says.
Custom Solutions
These benefits don't just include a boost to operational efficiency, they can include a boost in business value in terms of intellectual property, says Laycock, which in turn can enable and SME to capitalise costs; claim R&D tax credits and increase the valuation for a future sale of the company. "We have seen clients in traditional industries be acquired based on tech-style multiples of nine to eleven times EBITDA versus the industry standard of just three times," he says.
To this end, pushing cost into a custom solution for an SME supply chain, and avoiding industry standard, off-the-shelf, products can, says Laycock, create competitive advantage: "Whether in terms of client retention or winning tenders, a custom platform differentiates [an SME]from the competition, raising [that SME]above the race to the bottom where all suppliers can only compete on price.
Technological advancements means that access to such custom solutions are not as out of reach for most SMEs as they were, say, five years ago, Laycock says, "but with cloud hosted infrastructure and rapid application design platforms, custom-built software is realistic in terms of costs and timescale."
Ease of adoption will be vital for SMEs when it comes to meeting the supply chain challenges of the 2020s. Richard Seel, MD, supply chain and logistics (UK & US) at ERP specialist delaware, points to the Internet of Things as a technology that will transform SME supply chains this decade.
"One way in which IoT is driving enhanced connectivity across the supply for SMEs is through asset location management which integrates objects to send, receive and process data with people, pallets, resources, driverless forklift trucks and AGVs," he says. "It enables full traceability within the local warehouse and globally across the entire supply chain from source to customer, something often required of SMEs from tier one and two manufacturers.
Improving Productivity
Seel says that by investing in IoT technologies, SMEs have the opportunity to become more efficient, flexible and improve productivity, which he believes will ultimately ensure customer's demands can be met in a timely manner.
"At the same time these technologies offer health and safety improvements, and in some cases offers the opportunity to reduce the manual handling of HAZMAT materials, for example," he says.
However, SCALA's Perry says that investing in large-scale technologies, such as automation, is a risk: "This is particularly true for SMEs, who often have less capital to spare. That said, this should not prevent SMEs from tapping into and deploying some of the many technological advances that have been made across the industry in recent years.
"For example, SMEs could consider adopting simple low-cost technologies, such as hands-free ring scanners, which can help to solve many recurrent logistical issues such as shortfalls in both accuracy and safety. Through our partnership with wearable technology brand HYCO, we've been able to determine that wearable barcode scanning solutions such as ring scanners can not only solve the issues referenced above, but also potentially offer businesses productivity gains as high as 50%," he says.
Through investing in these lower-risk technologies, says Perry, SMEs can significantly improve their efficiency and accuracy, while minimising capital spent.
Artificial intelligence, Robots and the SME
Can SME's really benefit from technology that will transform the supply chain? Delaware's  Seel says that they can.
"With the sometime irregular and unpredictable demand placed on warehouses due to seasonality and weather, AI can be used to enhance productivity of the warehouse operations through the integration of technology solutions.
"Modelling the warehouse operations in a digital twin provides the foundation for AI, allowing for real time gathering, modelling and analysing of live data from warehouse operations that can provide improvements in productivity and optimising operations," he says. "One example being in resource and labour management whereby you can ensure better use resources and therefore drive productivity."
Seel says that the integration of collaborative robots working alongside warehouse operators could also allow for real time decision-making in areas such small order piece picking and the selection of products from trays and small bins.
He says that investing in cost effective ERP delivered on the cloud can provide SMEs with a platform to deliver an integrated supply chain solution, while ERP technologies such as RPA (Robotic Process Automation) can remove repetitive operational tasks.
"This improves business sustainability through the inclusion of better, more accurate financial and operational information into business decisions. Ultimately, these solutions then enable organisations to build a better relationship with suppliers and customers, as well as an enabling a better working environment for employees."
Spaldings Celebrates Long-Term Tuffnells Link-Up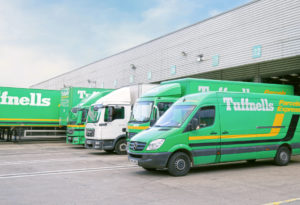 As an SME, finding a long-term 3PL that understands your business needs can be the catalyst for growth. To that end, Spaldings, a specialist distributor of replacement tools, parts, equipment and machinery to the agricultural and groundcare industry, has shipped nearly 300,000 products to customers with long-term logistics partner Tuffnells.
Since 1956, Spaldings has been supplying farmers, estates, contractors and local authorities and has grown to become one of Europe's leading distributors of agricultural equipment, parts and tools.
Operating out of a 50,000 square foot warehouse and serving over 30,000 agricultural and 4,000 groundcare customers in the UK and Ireland, the wholesaler regularly ships bulky items to hard to reach locations.
Spaldings has been working with Tuffnells for seven years. With high delivery-on-time performance, Tuffnells helps Spaldings to deliver to over 34,000 customers.
Emma Syme, operations director at Spaldings, said: "With a strong reputation for quality and innovation, we need a reliable logistics partner able to deal with big and bulky objects – but that also possesses an attention to detail for delivering items on-time.
"We have a wide variety of products, many of which are not suitable for standard transport networks – this is where Tuffnells' expertise comes in. These include unusually shaped products of varying complexity."
Spaldings works with Tuffnells to check and improve the way it packages items, to ensure consignments are more secure both for the drivers and loaders; and so goods arrive at their destination safely and fully intact.
Syme says: "Working with Tuffnells enables us to deliver a very high service level and to maintain our position as a market leader. We have always felt that Tuffnells is a good partner for Spaldings as any time we have needed any extra support they have always gone the extra mile to assist."
Karen Kirby, strategic account manager, central region, at Tuffnells, says: "Spaldings is determined to develop and source the highest-quality agricultural and ground care products, and to deliver the best service to its customers. We're pleased we can play a big part in making that happen – delivering their large and bulky items on time and in good order."
This feature originally appeared in the January 2020 edition of Logistics Manager
---
Click here to subscribe to the print edition of Logistics Manager