Supply chain execution could transform the industry, but without the integration of disparate systems or digital technologies, it may never be truly exploited. Alexandra Leonards investigates why connecting IT systems is crucial, and explores the technologies driving changes in the market.
For an industry characterised by fragmentation, connecting the dots can seem an unfeasible task. By its very nature the supply chain is fractured and split into core pieces, from raw material source to manufacturer and, finally, retailer.
It's not just these functions and their geographies that are divided. The IT applications that underpin the supply chain, from warehouse management to global trade management systems, are also commonly disconnected.
Although supply chain execution (SCE) systems are growing in sophistication, therefore promising greater efficiency, many companies are still failing to exploit the software. Without the integration of systems or the blending of data captured by those systems, SCE remains a useful but non-revolutionary tool.
As consumer demands become increasingly elaborate, and delivery windows shrink, there is a growing pressure for lower costs in the supply chain. Businesses are constantly trying to find speedier and more innovative ways to fulfil orders, using stores, partners and suppliers in more unique and complex ways than ever before.
This means that there is now a need for far more effective order management, returns management and next-generation point of sale systems.
"The lines are therefore being blurred when it comes to the traditional definition of SCE and how retailers today need to design their SCE processes for a superior and consistent customer experience across multiple channels," says Alex MacPherson, director of solution consultancy at Manhattan Associates. "It is no longer just about the last mile: it's about the first mile, the last mile and everything in between."
Matt Butler, director of industry strategy at JDA, says that although the level of maturity and value organisations are getting from these SCE systems varies widely, very few are taking full advantage of what they could deliver.
That is because many companies operating in the supply chain environment have disparate execution systems across their divisions, geographies or facility types. This means businesses are missing out on the economies of scale and greater efficiencies that the centralisation and standardisation of SCE systems could deliver.
"Limiting yourself to a set approach for processes and technology can often lead to opportunities being left on the table," explains Butler. "It's important that a SCE system can offer advanced configuration options so that it can drive more efficient processes."
Automation, voice technologies and labour management can also help companies move beyond basic solutions and improve overall productivity. Dominic Regan, senior director for value chain execution at Oracle, says:
"A company won't benefit from the true potential of their SCE systems – nor new technologies – if they're not fully integrated with their other supply chain, finance, sales, marketing, and remaining back-office and front-office applications. The data outputs from one system invariably become data inputs for other systems."
Data flow and integration help machine learning identify patterns and opportunities that might otherwise have been missed in environments with disparate systems or varying data models. It's the companies that integrate innovative digital technologies like artificial intelligence into operations, with those opportunities in mind, that will have a substantial advantage in the market.
"Those that must build and maintain integrations of multiple systems and one-off cloud services – each with its separate and disparate data models – will have trouble meeting their businesses' demands for real-time insight," explains Regan. "For example, if a manufacturer needs to cut costs, machine learning capabilities in its back-office ERP systems could allow it to identify which suppliers offer discounts for faster payment…"
This data could then be cross-referenced with SCE information like historical shipment data, which could reveal the willingness of the supplier to accept flexible delivery dates. Together these data points might help the business negotiate an even better discount.
"Those on the higher end of maturity have already taken advantage of tightly coupling their warehousing and transportation systems and are actively driving proactive response mechanisms across their enterprise through control towers, predictive analytics and prescriptive response recommendations, as well as robotic process automation," says Matt Butler, director – industrial strategy, at JDA. "Regardless of what end of the maturity scale you find yourself at, advances in technology mean supply chain experts can drive innovation in these areas."
How technology is changing the SCE market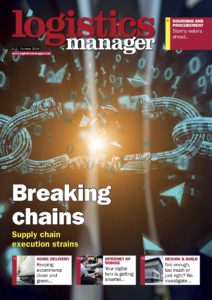 Integrating different systems for better efficiency and visibility across supply chain networks is not the only thing companies need to consider when it comes to optimising SCE. The implementation of new technologies to support IT systems is now a major consideration. The modern digital economy is adapting quickly, and the supply chain is following suit.
"Scarce trucks and drivers, late deliveries, spoiled shipments, and rising shipment costs can put a supplier's relationships with customers to the test, as well as cut into its bottom line," says Dominic Regan, senior director for value chain execution at Oracle. "To combat the problems and ease the pressure, suppliers are starting to apply a range of new technologies – the Internet of Things, machine learning, autonomous vehicles, and blockchain among them."
Modern SCE systems need to be able to take advantage of these new technologies in order to drive further value into the business. At the same time they must focus on "managing by exception" in order to filter users from the consequential large-scale expansion of supply chain data.
"This has also resulted in the appearance of self-service digital assistants or "Chatbots" in supply chain execution systems that can answer typical questions such as "Where's my shipment?" via multiple channels and devices, without the need for distracting phone calls to logistics planners and customer service representatives," explains Regan.
According to Eric Carter, solutions architect at Indigo Software, SCE systems are becoming more agile and easier to implement quickly.
"SCE systems used to routinely take 60 days or more to go live and now some can be implemented in a matter of days. They are constantly being updated and re-developed to meet the pace of change in manufacturing and distribution industries."
With technology rapidly permeating the market, supply chain execution systems are becoming more and more autonomous.
"This transition is being made possible by power of the cloud, the prevalence of digital assets such as sensor and streaming data and the introduction of Artificial Intelligence," explains Matt Butler, director – industrial strategy, at JDA. "New technology means that business decisions are becoming more intelligent, and now that the complexity that once came with supply chain systems has vastly decreased – this change has allowed companies to view, interpret and act smarter than ever before."
It's the use of these technologies driving cognitive supply chains that use data to vastly improve operations. With the support of artificial intelligence and machine learning, it's becoming increasingly realistic for SCE systems to make more informed decisions without the need for human intervention. JDA's Matt Butler says that this could be everything from figuring out an alternative plan for getting a delayed component to the factory on time, to flagging up a staff shortage that could delay production.
Other digital technologies like blockchain and the internet of things (IoT) are also beginning to adapt supply chain systems.
"Blockchain technology can be harnessed to efficiently manage complexities in a network of trading partners, who also benefit from being part of a trusted supply chain network," says Oracle's Regan. "Blockchain helps to gain efficiencies for supply chain management by pinpointing where transactions and goods are across the supply chain."
This technology can be applied to food and beverage, transportation and other industries to ensure things like organic certifications, manufacturing compliance and adherence to global trade regulations.
"Like blockchain, IoT is one of the new technologies helping logistics providers keep their customer relationships in good shape, by addressing problems such as late deliveries and spoiled shipments," explains Regan.
The growing number of IoT sensors means companies now have more information available to them than ever before.
"In short, tapping into the growing wealth of data they have will allow them to focus on navigating complex, end-to-end supply chain challenges," says Butler at JDA. "On the execution side, this knowledge can then be used to drive more intelligent responses to some of the most complex challenges they regularly come up against."
IoT systems are already starting to enable produce suppliers to monitor temperature and conditions of individual pallets of fruit, and route those with a shorter remaining shelf life to the nearest stores. As well as this, sensors linked to tracking devices on pallets and trailers can also help to identify humidity and vibration. This is particularly useful for industries like high tech, where it's crucial that products arrive in a serviceable condition.
"An example of this in action could be a company that manufactures electronic devices sold in retail stores," says Regan. "They will use IoT and blockchain to trace component parts shipped to its factories, monitoring delivery times and other parameters to ensure that contract requirements are met.
"Payments will be made automatically at an agreed-upon time; no more manual back-and-forth to reconcile records."
 The company's suppliers will also use those same technologies to track and monitor the movement of their shipments, including those handled by third-party trucking companies. Because blockchain digital ledgers deliver such a high level of visibility, if the contract terms aren't met, it's obvious to all parties involved.
Additionally, if defects are found in the completed product, components can be traced back through the blockchain to identify the supplier, specific shipment, and other factors to pinpoint the root cause.
Supply chain execution is on the cusp of transformative change – but businesses within the sphere must begin to recognise the value of connecting the dots to realise its true potential.
Case study: Gousto chooses JDA Warehouse Management System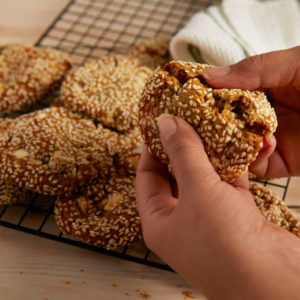 London-based meal kit provider Gousto chose JDA's Dispatcher warehouse management system for its warehouse operations.
Since its establishment in 2012, Gousto has grown significantly – it now delivers almost two million meals a month. Although the company's success is positive, this growth also increased the business' warehouse and logistics challenges.
"With 40 different recipes each week, 60 ingredients per box and thousands of individual customer orders, we estimate that our JDA software is handling 20 million lines of data per week," says Robert Hellen, operations service manager at Gousto. "Its capabilities are tremendous – we now have an end-to-end solution with accountability for all stock within the Gousto business."
According to JDA, since implementing the WMS, Gousto's order volume has increased significantly and the company has been able to accommodate this 10x increase in activity without adding any physical labour or warehouse space.
"In just three years, Gousto's investment in JDA has transformed their business from a start-up to a healthy, growing company," says Johan Reventberg, president, EMEA, JDA. "We look forward to continuing to help Gousto manage their growth profitably."
Case study: ArrowXL's £3 million digital transformation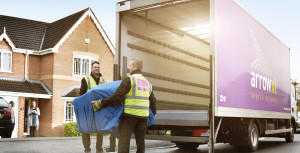 Over the past few months ArrowXL has been rolling out a £3 million digital transformation across its network.
The two-person home delivery business chose Paragon's advanced transport planning solution to automate and streamline its distribution network. The planning system will be integrated with ArrowXL's vehicle tracking system; this will enable the business to monitor planned versus actual performance, and also to access real-time delivery information for its customer service team.
As part of its digital transformation, the company has also implemented a warehouse management system from JDA to integrate solutions across all of its hubs and outbases. As well as this the business will deploy a new order management and billing system.
"This programme is designed to deliver a number of key benefits such as supporting our growth, enabling closer integration with our clients and meeting the increasing requirements of the end customer for convenience and choice," says ArrowXL's chief information officer James Robbins. "To maintain and build on our position as the leading two-person home delivery specialist in the UK, we are committed to innovation and continuous improvement.
"By investing in the best technology, we are able to remain at the forefront of the home delivery sector."
WMS: is there scope for new developments?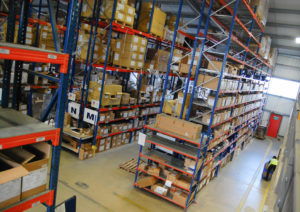 There are plenty of IT systems in the SCE portfolio that have existed for many years, one of which is warehouse management. These systems are well-established, so is there room for development and improvement?
"WMS systems are still evolving, because of the pace of change in warehousing as a result of e-commerce," says Eric Carter, solutions architect at Indigo Software.
Carter says that the introduction of small order batch pick and sort functionality to help manufacturers transition to dropshipping and e-commerce orders from the traditional bulk order profiles has been one of the main developments.
"We're still seeing improvements being made within established parts of the SCE portfolio," says Matt Butler, director of industry strategy at JDA. "Within WMS, many businesses are fine-tuning order picking capabilities by placing more of a focus on collecting data, analysing it and acting on the insights it provides.
"It's vital that organisations deliver consistently high service at relatively low costs, and so once the data is being captured, you need the right tools to make it work."
There's no point in having sensors that inform businesses of the temperature of goods inside an HGV, the weather conditions it faces, the speed at which it's travelling and how traffic will impact the journey, unless these dots are connected and a business can figure out how these factors will impact the supply chain.
"So, it's critical to get a platform in place that can manage and interpret the signals and insights from artificial intelligence, machine learning and the Internet of Things," explains Butler. "Companies then need to draw conclusions from the results and use them to their advantage.
"This kind of supply chain allows you to ship to customers sooner and more cost effectively than ever before, giving a real edge over competitors and making it well worth the effort of adoption."
This feature originally appeared in the October 2019 edition of Logistics Manager: click here to subscribe to the print edition