An effective transport management system (TMS) is now the backbone of a retail operation. As demand for the home delivery of goods accelerates, e-commerce is unable to survive – let alone thrive – without the affective management of commercial fleet assets.
Combine the movement of goods outside of the warehouse, with the desire to increase speed and productivity within the warehouse to meet the same-day and next-day delivery experience of e-commerce, and the synchronicity of vehicle movements with goods movements has never been more essential.
David Shaw, Manager of Strategic Projects at Aptean, says that the latest TMS technology enables logistics operations to monitor all first, middle and final mile transport activity, and because information can now be captured from multiple sources, this can include both in-house and third-party delivery vehicles.
"Real-time visibility enables status, event and ETA data to be shared across the supply chain to effectively manage the transport process and optimise end-to-end performance, with live tracking at a route, order or item level. In addition, it is now possible to track assets such as trailers, roll cages, pallets and other equipment to avoid disruption, financial losses and a drop in productivity."
Shaw says there are now huge advantages to be had from the convergence of systems that encompasses planning, execution and reporting. By bringing together complementary technology – such as TMS, route planning, vehicle tracking and electronic proof of delivery (ePOD) – into an "end-to-end solution" it is now possible to optimise every step of the delivery process by achieving the highest levels of visibility and control. "It allows an organisation to plan, do, review and then act, providing the tools and data needed to analyse operational performance, model the impact of potential improvements and, ultimately, implement the changes that achieve continuous improvement," he says.
Such a system can also support legal compliance. For example, considering staff and vehicle availability on an individual basis – feeding in actual driver hours and shift times – it is possible to guarantee compliance with European Working Time Directive rules, while ensuring transport plans are achievable in the real-world.
Software as a Service Delivery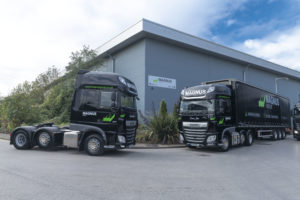 Meanwhile, an integrate ePOD solution, used to track deliveries at an item level, can enable drivers to complete required vehicle checks electronically. This, says Shaw, can provide fleet operators with peace of mind that checks are taking place and any non-compliance can be quickly addressed. What is transforming the TMS landscape is the SaaS (Software as a Service) delivery: "The SaaS model has significant benefits in terms of scalability, accessibility and visibility, so will play an important role in how TMS technology evolves and is delivered moving forward.
"This year has certainly highlighted the importance of being able to work remotely and share information with colleagues located elsewhere, so cloud-based SaaS solutions will become an important part of future risk mitigation. Traditionally, there have also been issues with critical information being stored in siloed systems, so SaaS can play a huge role in sharing data and increasing visibility across the supply chain."
Beyond SaaS Internet of Things and artificial intelligence technologies are also changing the way that TMS can deliver for logistics operations. Shaw says that IoT is already transforming how data is captured and shared both internally within a business and with customers. He explains that with connected delivery vehicles it is possible to have complete visibility of how a transport operation is performing against plan, making it possible to react to unexpected issues or analyse historical date to identify areas of improvement.
"AI and machine learning adds a further layer of complexity to transport management. This is already enabling leading logistics operations to automate processes, using live vehicle data to constantly re-optimise plans and communicate changes to relevant stakeholders within the supply chain.
"AI innovations are also providing the opportunity to fine-tune routing and scheduling by analysing historical date. For example, a fixed duration time might be used for a drop-off, but in reality this could vary by location or customer, so using AI the system can automatically identify and factor in these variations, updating plans to ensure they are as accurate and productive as possible."
Blakenham, Suffolk-based haulage firm Magnus Group is to run its 40-vehicle fleet on the AI-powered Teletrac Navman TN360 which turns real-time data into decisions in areas like route planning, logistic workflows, maintenance, driver behaviour, compliance and fuel management.
Robert Green, Transport Manager at Magnus Group, said: "We went to Teletrac Navman with an extremely lengthy wish list to achieve. Not only did they meet all our demands they also got under the skin of the business and by doing so were able to really identify the optimum set-up for meeting our business objectives. TN360 is an incredibly flexible, adaptable and easy to use system enabling us to rapidly turn data into informed business decisions.
"The levels of customer service on offer give me the confidence that Teletrac Navman can really affect a change in the way we operate. Another point of difference and added value which Teletrac Navman aims to provide moving forward, is the ability for our customers to access the platform too, so they have real-time visibility of their deliveries."
Teletrac Navman TN360 also offers an Easydocs App, which allows documents to be secured online in the cloud, make it easier for Magnus Group to manage and access files whether they're in the office or on the road. To that end, Waleed Elmughrabi, Technical Director at Bulk Tainer Telematics, says that having visibility throughout the supply chain has moved from being an added value service to a must-have. So, instead of having to wait for the vehicle to arrive at its final destination or a checkpoint to make sure there have been no issues during transport, real-time visibility can alert fleet operators to a problem as soon as it develops.
"There have been a lot of new technologies and systems created recently to support TMS, but this remains an emerging market. The way forward is more integration between systems, and the various data providers.
"Mapping solutions and the use of AI are both on the increase, for example, and have already proven to increase efficiency and decrease the amount of idle time for assets. Decreasing idle time is the ultimate goal for fleet operators, hence route optimisation that also reduces the gap between jobs is where the challenge lies," he says.
Elmughrabi says that as a result SaaS provides an attractive entry point to technology, as it can be a big investment to equip a full fleet and SaaS can facilitate the deployment. "IoT and AI are doubtlessly the way forward. Studying trends and statistics to include as part of an AI algorithm will provide the base layout for route optimisation. Then comes internal and external integration, using tracking and monitoring IoT solutions to enable machine learning.
"The most important role of IoT and AI in logistics operations is prediction – through machine learning, trends and statistics can be analysed to predict the best route and issues which could occur."
Changing Habits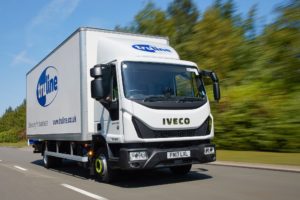 It's not just technology that is changing transport management solutions, it is the nature of customer demand, exacerbated by the acceleration in e-commerce volumes during lockdown. Peter Mansfield, Group Sales and Marketing Director at Trakm8, says that during the early days of lockdown, supermarkets were struggling to provide delivery slots to every enquiring customer. But most brands are now utilising technology and smart data to stay ahead of demand and keep their delivery supply chain moving.
"One such mechanism has been the roll-out of 'slot steering'; the practice of nudging local clusters of customers towards delivery slots at around the same time. This means the transport manager at each supermarket can plot the most economic route for drivers – meaning they drive less and can deliver more.
"This came into its own during the pandemic, when record numbers of customers were trying to secure delivery slots. The roll-out of 'slot steering' enabled drivers to cover a smaller distance, while dropping off at a greater number of properties – meaning as many customers as possible could get a convenient delivery time."
Trakm8 has been using such technology with Iceland, which, it says, has been able to increase driver productivity by 30% and make a 10% saving on fuel. While the number of shoppers attempting to book delivery slots online has fallen slightly since the peak of the pandemic, it still remains significantly higher than pre-lockdown levels – and is set to remain that way for the foreseeable future. Customers who would never have considered it before are now ardent online shoppers and could be less likely to return to physical stores (at least for their grocery shopping), even as restrictions are eased. Therefore it is crucial that retailers continue investing in their fleet and delivery provisions.
"Whether that's considering the size and mix of their fleet (even partial electrification of a fleet could help retailers make considerable savings on fuel), or investing in the right telematics solution to help their drivers work as efficiently as possible, retailers should be considering now how they can remain competitive and continue to meet customer demands," says Mansfield.
But doesn't more deliveries equate to more vehicles making those deliveries and will we not see supermarkets ratcheting up the size of their fleets to meet this increase in demand? Not necessarily, says Mansfield: "We may see retailers streamline their fleets, but invest in telematics and vehicle technology that helps them maximise their assets. As with today, the fleet manager of the future's primary focus will be on ensuring maximum return on investment for their vehicles.
"As such, I expect to see retailers nationwide invest in future-proofing their fleets over the next few years. This will include the use of route management software, which use data rich insights to provide the most economic route for drivers – ultimately enabling them to make more deliveries on their routes – or diagnostic platforms which provide real-time vehicle health checks."