E-commerce dominates the retail sector like no other materials handling market. More customers want a greater diversity of choice delivered directly to their homes in the quickest and most convenient time possible. For those supplying goods under such constraints the demands on existing warehousing infrastructure are enormous… Christopher Walton investigates.
Compound this with the potential for a lack of labour: The Freight Transport Association Logistics Report 2019 estimates that one is five forklift drivers and warehousing staff are EU nationals, whose vocational status in the UK is uncertain. Sprinkle in the need for a more sustainable supply chain, that is decarbonising every link in the chain… automating warehousing processes is now essential, not optional.
"Global inventories will have doubled between 2015 and 2020 and e-commerce is driving pressure for packages to be picked, packed and delivered within an ever-shortening time frame," says Jim Hartshorne, MD, retail and consumer, at DHL Supply Chain UK and Ireland.
Hartshorne says that logistics companies and customers need to find an innovative way to reduce costs and increase throughput that traditional warehouses are not able to handle. He says that because automated warehouses have the ability to work 24 hours a day, seven days a week, without the need to be trained on shifts, this brings a new level of flexibility and practicality to warehouse managers who want to optimise output. It also, he argues, allows businesses to meet changes in purchasing habits and the subsequent distribution challenges they face.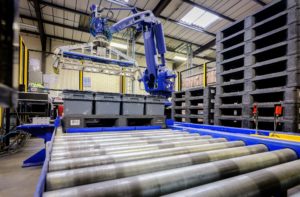 Rachel Price, intralogistics' business development manager for Siemens, agrees that automation helps to meet such challenges: "One of my clients, a nationwide post and parcel carrier, handled 1.2m packages a day last year. They are expecting a bigger peak this time, with 1.7m.
"More consumers want more products, available at the best price and delivered the next day.  It means fulfilment centres must sustain the same level of optimum service whether they're dealing with a steady, manageable flow of orders or a massive upsurge, just like they are about to experience with Black Friday, Cyber Monday and Christmas."
In truth, automation and e-commerce have achieved a symbiotic relationship. Growth in one cannot exist without growth in another. The scary thing is that for some, the market is still in a growth phase.
Simon Dixon founded supply chain and logistics advisors Hatmill ten years ago and helps small, medium and large organisations to plan and implement automated, part- automated and manual warehouse process.
"We don't think the e-commerce market has matured yet, and don't expect it will for another 10 years or so," he says. "Only when everyone is online – that they're IT literate to decide what they want to do – and then consciously choosing either e-comm or the physical store, will it have reached maturity.
"Currently you've got retailers such as John Lewis where 50 per cent of sales are e-commerce, but most others aren't at that level. While e-commerce is still maturing, I think we'll see businesses be reticent to invest large sums until they're more certain about future capacity requirements, emerging automation technology and where customer needs are going to go."
Has the market matured?
However, Mike Chadwick, supply chain consultant, Indigo Software argues it is seeing that the market for automation has matured in some areas: "Those that have already invested are not yet ready to increase their investment with second generation adoption. But for first-generation adopters, there is still plenty of interest, for e-commerce applications and also B2B commerce, to speed up fulfilment rates."
The adoption of automation is not just limited to how advanced any particular retail business is down the line of e-commerce, it may depend on the physical location of the warehouse says Dixon at Hatmill.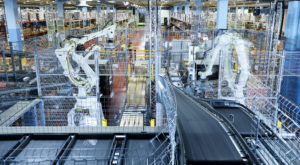 "Automation can replace the need for people, and the growth in automation is in part driven by labour shortages. I think we'll see automation take hold first in areas where you've got a high density of large distribution centres, coupled with difficulties in sourcing labour, such as Lutterworth. So, it's likely we'll see early adoption concentrated in pockets like this."
The geographic reach of labour is not just at a local level, but a national one, says Siemens Price: "Brexit has undoubtably created a level of uncertainty over the availability of labour in the short and long term."
To overcome such labour shortages Price says that the companies she works with are exploring the automation of small, repetitive tasks, while some are looking to fully automate their smaller depots which operate at night.  In the post and parcels market she says that current practice is that parcels are sorted in regional depots by hand into local postcodes. The solution to this, she says, is automating that sorting process and loading straight into a van ready for the next leg of its journey.
Fulfilling short-term calendar peaks such as Christmas on online incentive days like Cyber Monday and Black Friday are problematic from a staffing pint of view, leading to increased demand for automation says Chadwick at Indigo Software.
"Without automation, users are reliant upon manual labour which can be problematic for e-commerce companies. They can experience huge spikes in throughput volume during promotions which are easy to plan for with machinery but much harder when reliant upon physical labour – which may be expensive or reluctant to do any extra time.
"When introducing automation, users will plan to complete or produce a set number of processes or goods within a 24-hour period. Unless the automation breaks down, those targets will always be achieved."
Increased automation also pushes up labour costs in other areas of the business, says Stuart Higgins, partner at consultancy BearingPoint: "Clearly automated operations have reduced labour requirements for hourly paid warehouse roles: pickers, packers, FLT/PPT drivers, etc..
"However, automated warehousing requires more skilled labour for maintenance and distribution centre/ automation control tower operations. Automated solutions are typically designed to meet average demand requirements and designing for peak would add significant expense and equipment redundancy for the majority of the year – so even with automated solutions, there will always be an increase in labour requirements for peak operations which places pressure on local labour markets."
It is not just the availability of labour, it is the cost, says Dixon at Hatmill. He points to chancellor Sajid Javid's speech at the recent Conservative conference, where he talked about raising the minimum wage to over £10 per hour in the next five years. "There's a good chance that this will then start to edge a warehouse operative role up to around £22,500 per year, plus employers' costs.  This makes the business case for automation more compelling as the capital investment in automation is 'paid back' over a shorter period," he says.
Flexible automation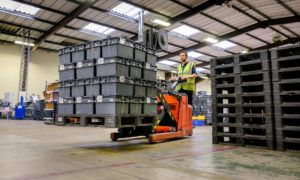 "In the current economic climate retailers are looking for opportunities for cost savings, so it is more difficult to find funding for projects," says Ian Keilty, MD of retail and consumer at Wincanton. "We are seeing a trend toward more flexible automation that provides lower risks around long-term use. We are also seeing new commercial models for a more 'pay-as-you-go' approach to automation.
"Automation is becoming much more plug and play, so solutions can be scaled over a few years and even re-located if necessary. This modular automation is allowing greater levels of automation to be achieved faster than ever before."
Dixon at Hatmill strikes a note of caution among retailers investing in automation:  "The interest in automation is at its highest for as long as I can remember, so there's a lot of talk, but relatively few investment decisions being made – you could say we are in a research heavy phase. I think once we have certainty on Brexit, we'll probably see a wave of decisions and investment on automation."
Brexit or no-Brexit, deal or no-deal, for many serving the retail sector, automation projects are on the up. Hartshore at DHL says the 3PL has seen a "significant rise in the number of automation requests from both new and existing customers". It is also seeing an increased demand for robotics, he says, to work alongside its people in traditional warehousing environments.
"As demand increases, the cost of adopting new technology continues to fall," he argues. "Where cost has been a barrier for some companies, we're likely to see more implementations going forward."
Asked if he had seen any slowdown or increase in automation projects in the past 12 months, Chadwick at Indigo states "not really".
"We have only seen slowdowns when the market feels uncomfortable with the cap-ex required and automation is regarded as an essential investment. As a whole Indigo have seen more companies keen to invest more into improving their systems and processes – not just automation. It is closely linked to the economic climate and forward-thinking companies are planning beyond Brexit to what they want to be achieving in 2025 or 2030. They are planning these investments regardless of Brexit."
Goplasticpallets.com MD Jim Hardisty says that some of his clients are looking closely at the total investment required in their automation projects. "But again," he says, "due to the time from start to full implementation, we're seeing that capital investments are being agreed at inception, and that the projects go through to completion – albeit with close monitoring of the total costs."
Proving the worth of automation on the bottom line, as well as getting commitment from the retailer throughout the lifetime of the project, is crucial to its success.
A compelling argument to invest
"Payback periods for automated investment are reducing significantly and so automated solutions are becoming more attractive as a result," says BearingPoint's Higgins. "Clients are increasingly viewing labour cost inflation and manual handling regulations as a potential future risk to their business which automation can resolve and, when considered alongside the benefits of accuracy, process efficiency and the ability to combine online and store operations, this is becoming a compelling argument to invest."
So, if a retailer is feeling the pressure to release all the capital required for a full-scale automation project, are they just testing the waters on a smaller scale? "Yes, but in a different sense," says Higgins. "Automation does not need to be multi-million-pound automated storage and retrieval systems. Automation these days can start with simple automated guided vehicles to replace manual FLT activity and these systems can often pay back in less than 12 months."
Finally, as every business has to do in the current environment, automation has to come with consideration as to its environmental impact. As Kielty at Wincanton argues: "Maximising the use of assets often requires automation.
"With the increasing trend of using larger warehouses, automation can help achieve a high density of storage and full utilisation of property assets. This efficiency of storage brings benefits in carbon reduction through reduced energy costs; for example, in temperature-controlled environments."
The quicker a company can respond to orders, says Chadwick at Indigo, the more they can decrease the amount of time spent in supply chain.
"By spending fewer hours, they are decarbonising – effectively doing the same work, but with fewer resources.  Any way that time can be removed from the supply chain is decarbonising – even just a few hours helps to reduce the carbon footprint. Some people think that even though they are running a 24/7 operation using automation, they are not reducing their carbon footprint, but they are, because automation enables more to be achieved with fewer resources. Without it, the organisation would be using more energy, more labour, and potentially need more space to sustain its operations too."
However, to accurately assess whether automation is or isn't decarboninsing the retail supply chain would require significant levels of analysis, says Dixon at Hatmill. Such a measure would have to take into account the carbon footprint of automation manufacture and energy levels used, he says, through to the impact on current warehouse operations and labour, such as reducing commuting miles and warehouses with the lights off.  "Until we all understand the life cycle carbon costs of activities, it's very difficult to predict the impact on the environment of automation," Dixon states.
KNAPP passes the smell test with Christian Dior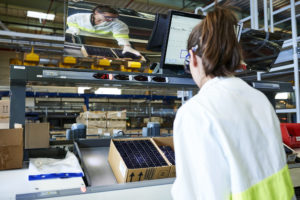 Part of the LVMH Group – which owns brands including Moët & Chandon, Louis Vuitton and Bvlgari – Parfums Christian Dior serves customers around the world from its DC in Saint-Jean-de-Braye, near Orléans, some 100 km south of Paris. The facility also dispatches orders for the company's cosmetics brands, Benefit Cosmetics and Make Up For Ever.
A combination of KNAPP's OSR Shuttle system and robotics ensures that both orders for retail stores and e-commerce orders for individual customers are fulfilled efficiently and economically.
Incoming pallet loads from production are depalletised by one of nine robots, with the goods being conveyed into the OSR ShuttleTM for storage. The OSR system has 38,200 locations and stores 90% of the article range, with some cases being opened before storage to facilitate single-item picking. The OSR also provides temporary storage and sequences the orders prior to outbound delivery.
When full cases are required for B2B orders, they are retrieved from the OSR and then labelled and palletised as mixed loads by the robots. The robotic systems feature image recognition technology and KNAPP's KiSoft Pack Master software, which enables the formation of optimized pallet loads from cartons of varying dimensions.
For B2C orders, the OSR retrieves an open case and transfers it to one of eight goods-to-person order picking stations that feature integrated weight checking. The OSR ensures an even distribution of the workload between the ergonomically designed 'Pick-it-Easy' workstations.
This feature originally appeared in the November 2019 edition of Logistics Manager: click here to subscribe to the print edition