The February 2020 issue of Logistics Manager is out now in print, online as well as for the iPad and Android.
Cover Story: Materials Handling Trends That Will Change Your World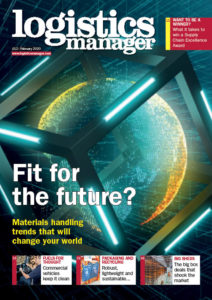 Our 28-page materials handling and warehousing special digs deep into the intralogistics trends that will shape the warehouses of the future, including:
Counterbalance trucks – the workhorse of the warehouse.
Loading bay equipment – leave your problems at the door.
Packaging technology – next generation tech requires synchronisation.
Packaging & recycling – robust, lightweight and sustainable.
Transport Management Systems – integrating TMS with WMS and ERP.
RFID & Barcoding – inventory gets productive.
WMS – how to future-proof your operations.
Automation – factors determining RoI are changing.
Commercial Vehicles: Fuel For Thought
Buyers are faced with a bewildering set of fuel options and new safety tech. Citti editor John Thornton guides you through the market.
Meet The Winners: Supply Chain Excellence Awards 2019
Find out what makes Primark with PAC-D; Best Food Logistics; Graze and Forterra winners.
Big Sheds Special
LM picks the property deals that defined 2019 – and tells you how will they shape the market in 2020.
Regional Focus: North West
Is the North West of England facing a supply shortage in 2020?
---
Click here to subscribe to the print edition of Logistics Manager