DP World has been transforming the shape of logistics in the UK for the past five years. Park Development Director Oliver Treneman told Logistics Manager how it is planning for the future.
DP World London Gateway opened in 2015, and its port-centric logistics approach changing supply chain flows.
Its combination of deep-sea port facilities and a neighbouring logistics park has been attracting name clients over the past five years, with a combination of long-term supply chain planning and a short-term turnaround on building facilities.
In an exclusive interview, Logistics Manager caught up with Oliver Treneman, Park Development Director, at DP World. Treneman was working in logistics real estate in China prior to 2015, and moved back to the UK to take on the challenge at DP World.
"I've been back in the UK for five years and I've been very fortunate in terms of timing," he says. "The park has transformed during that time and we are fortunate to see that we are getting very strong leasing transaction. The port has also been very successful in the past couple of years, seeing double-digit growth since I've been there, and we will probably do that this year as well."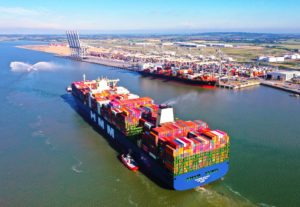 In July P&O Ferrymasters commenced operations at DP World London Gateway Logistics Park LG231, taking 231,000 sq ft of distribution space on a five-year lease. P&O said the FMCG and food and beverage focused facility complemented its activities at the Port of Tilbury, which are more continental cargo focused. Mark Mulder, Director, Contract Logistics at P&O Ferrymasters, spoke of the port-centric approach at the time: "This new facility will provide the operational flexibility and capacity our customers need to ensure their supply chains are becoming even more efficient and effective with direct access to a central hub linking rail, road, deep sea and short sea."
March 2020 saw a 69,718 sq ft chilled distribution centre for Compagnie Fruitière UK open, while back in November 2019, Ziegler UK signed a lease on a 95,000 sq ft logistics facility handling import and export consignments. Lee Marshall, Managing Director of Ziegler UK, said of the move that planning consent was achieved in just 24 days after submission due to the Local development order that enables Thurrock Council to give developments the go-ahead within 28 days as long as the application meets a set criterion.
Last year also saw CEVA Logistics open 107,639 sq ft 'chill hub' – a temperature-controlled facility with 10,000 pallet positions and seven independent chambers operating at temperatures ranging from -25 °C to -16 °C. It has dedicated areas to handle pharmaceuticals, fresh and frozen produce, beverages and flowers. London Gateway is also home to a 107,155 sq ft warehouse for CMA CGM, which opened in April 2019
Treneman promises another big letting in the near future, in the shape of a big household name: "Despite the difficulties that have taken place during the course of this year the logistics sector has performed really well as a real estate asset class. As Napoleon said, 'I don't need brilliant generals, I need lucky generals'."
Transformation
The focus for Treneman is what he describes as the "industrial revolution" currently taking place in logistics and supply chain: "I really believe that this is exactly what is happening, and commerce is being transformed by what is taking place in the sector. It is a transformative trend.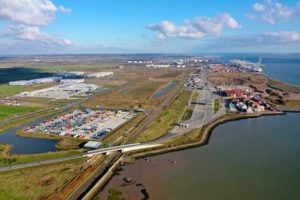 "When we've responded in a number of different ways," he says. "As a developer we don't think entirely in the way that institutional developers work, looking to have a transaction backed by a 25 to 30-year lease with all bells and whistles on– there is no risk in that from a development perspective. We are much more flexible. That is partially because of the source of our capital which is coming from Dubai and is sovereign money. Considering the other side of the coin – logistics money is back by contracts that are three, five or ten years in duration, and that is reflected in the short-term successes we have had."
Transformation is also coming in the way that goods flow as a result of port-centric logistics: "There are great efficiencies for the chilled and frozen sector to be located adjacent to a port. This is really important in the successes we have had with [Compagnie Fruitière and CEVA CMA] – all operating in that sector. It is no coincidence that 65% of all deep-sea reefer traffic is coming into the UK is coming into this location, because they want to reduce mileage to regional distribution centres."
At the time London Gateway opened there were questions about the opening of another deep-sea port facility just 10 miles up the road from the Port of Tilbury, but given the concentration of the UK population in the south-east of England, having such close access to a major retail market improves speed and turnaround times for retailers.
"For the likes of Dixons, delivering into London, they want to be close to where the population is. And London is growing eastwards as the city is inhibited from growing north or west. We are seeing the population shift to the east," he says, adding that another element that was vital to its development was anticipating how much volumes would shift to larger vessels.
Risk management
While logistics and supply chain undergo an industrial revolution, two externals challenges have dominated thinking for years. Latterly, the machinations of Brexit has forced supply chains to restructure decades old practices, while Covid-19 dominates thinking today.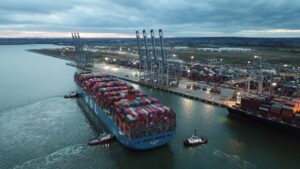 Teneman says that Brexit does not really affect DP World London Gateway significantly as the majority of its volume (some 90% to 95%) is from outside the European Union: "The regulations, tariffs and declarations are all dealt with by an independent system that is well established. The Brexit part is important, but in the scheme of things it is not going to affect us hugely," he says.
As for Covid-19: "We saw a slowdown in activity really from the middle of May, beginning of June until the middle of August and volumes are starting to pick up now as they always have done, prior to black Friday and the Christmas season. The first four or five months were pretty strong, but I honestly could not tell you how the end of the year will finish up, but it will be positive."
Planning for the future involves targeting e-commerce and the chilled and frozen space. "There are a lot more lease enquires," says Teneman. "Many are tied into legacy leases. We stay in contact and continual dialogue with them and present London Gateway as transformative in regard to their operations. There are all sorts of different discussions… with the concentration of the industry taking place in the Midlands it is difficult for those businesses to make large strategic decisions in moving operations. You have to be patient [but] people making those types of changes are the likes of Amazon."
As P&O FerryMasters said earlier this year, it was the operational flexibility on offer from DP World that encouraged the move earlier this year, and this is a strength that it will continue to lean on: "The flexibility we have as a result of the local planning order at London Gateway means all the planning uncertainty has disappeared for occupiers. We can get planning consent within four weeks which means that customers can plan for the future. We can phase their development over long-term timeframes. We give that certainty of being able to expand over time.
"The pace of change is so rapid you have to be looking down the road rather than anticipating what is taking place in the next two or three years. The ability to expand should reflect that mindset and people should be braver."

DP World are sponsors of the Retail Excellence Award at the Supply Chain Excellence Awards 2020. The winners will be announced on 12 November. Go to www.supplychainexcellenceawards.