The January 2020 issue of Logistics Manager is out now online as well as for the iPad and Android.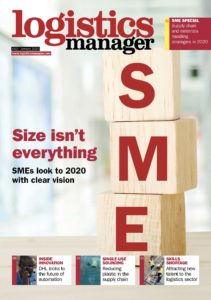 Cover story: Size isn't everything
A supply chain can make or break an SME and the 2020s offer more challenges – and more opportunities – than ever before.
Materials handling equipment for SMEs: Flexibility is key
How can SMEs benefit from increased operational efficiencies through investment in materials handling equipment?
Single-use plastic:  Plastic not so fantastic
Single-use plastic is dropping out of the supply chain. But is it just lip-service to environmentally-savvy customers? We investigate…
Recruitment challenges: Plugging the gaps
The logistics industry appears to lurch from one skills shortage to another. We discover ways to arrest the decline in new talent entering the sector.
---
Click here to subscribe to the print edition of Logistics Manager