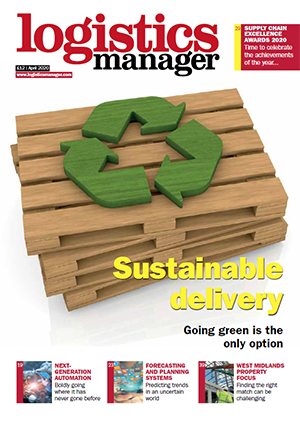 The April 2020 issue of Logistics Manager Magazine is now available to read online!
LEADER: Can sustainability survive the coronavirus crisis? With supply chains under increasing pressure the chance to change should not go to waste.
NEWS: Supply chains under stain as coronavirus pandemic hits hard
NEWS: Automotive manufacturers face shutdowns
NEWS: 'We're not invulnerable' warns 3PL
NEWS: K+N sells vast chunk of UK contract logistics business to XPO
NEWS: H&M's new Milton Keynes DC puts jobs at risk in Stoke-on-Trent
INTERVIEW: JAMES WROATH – Wincanton's boss gets bullish – The boss of Britain's biggest 3PL on Stobart, automation and robotics.
SUSTAINABILITY SPECIAL: Time for change – Can materials handling, supply chain and industrial property meet the needs of sustainable business?