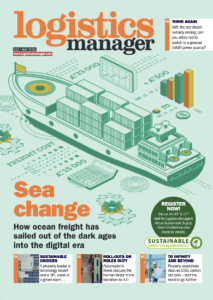 The April 2022 edition of Logistics Manager magazine is now available to read online!
Cover story: Staying afloat?
Michelle Mooney catches up with the experts in ocean freight to see exactly how the sector is adapting amid new pressures in an increasingly digital world.
Inside innovations: Route optimisation: Do you deliver? 
The boom in e-commerce has pushed logistics companies to complete deliveries with greater efficiency. Michelle Mooney discovers exactly how intelligent route optimisation can help these companies to achieve their ESG responsibilities while also satisfying customer expectations.
The big question: Peak planning
Nick Bradley finds out how companies are planning for peak season earlier this year so that all goes smoothly in the coming months
Green credentials: The green warehouse of the future
Following a recent Logistics Manager webinar featuring GLP, Schneider Electric, and DHL, Nick Bradley puts their thoughts to paper….
Property News: Movers and shakers