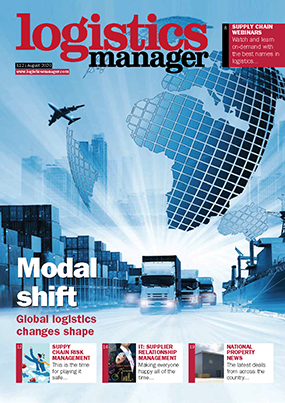 The August 2020 issue of Logistics Manager Magazine is now available to read online!
Inside you'll find detailed analysis on supply chain risk management; IT supplier relationship management and an in-depth report on international logistics.
Cover story: International logistics – a wake-up call?
The global economy was pretty choppy even before Covid-19 caused its chaos. But what are the prospects for international logistics, when supply chains are increasingly looking at resilience and reshoring?
Supply Chain Risk Management: The stakes are high
Second-wave, third-wave, localised outbreaks, regional outbreaks… Covid-19 has supply chains on edge. Can traditional models of risk management keep pace with the new world, or does it require something more radical?
IT supplier relationship management: Right choices
Supply chains thrive on effective relationships but achieving them is a challenge. So, how do you effectively manage IT supplier relationships, from the point of tender through to execution?
Logistics Manager webinars: Come together
With working remotely and working at home part of the new world after the Covid-19 pandemic, Logistics Manager has teamed up with some of the highest profile names in the industry to address key industry issues via our series of webinars. We look back at some of the highlights.
Also in the August issue… all the latest news from logistics, supply chain and property.