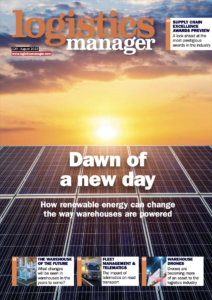 The August issue of Logistics Manager is out now!
Cover story: Renewable energy
Learn how renewable energy can change the way warehouses are powered.
Warehousing: The warehouse of the future
How will the warehouse of tomorrow differ from the warehouse of today?
Road transport: Fleet management & telematics
Telematics can improve road transport operations, from efficiency to sustainability to driver safety. Here's how…
Intralogistics: Warehouse drones
What role will drones play in the future of warehousing and the logistics industry?
News and analysis
News from the industry including a walking freight trial and a call for the EU to set more ambitious HGV emissions standards, alongside expert analysis.
Supply Chain Excellence Awards preview
A look ahead at the most prestigious awards in the industry.
Property: Urban logistics & micro hubs
Owning, operating, or occupying an urban logistics facility can be incredibly beneficial, but it can also be extremely challenging…