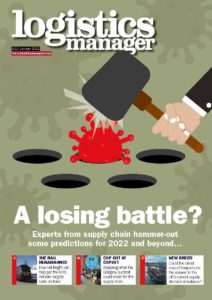 The January 2022 edition of Logistics Manager magazine is now available to read online!
Cover Story – Predictions in 2022; A losing battle?
Editor Nick Bradley speaks to the experts on what we should expect and the challenges that may lie ahead.
Green Credentials: COP26
Discussions around carbon emissions could expose supply chains to new risks, including tighter regulations, higher taxes and trade conflicts. Malory Davies warns of the possible changes ahead.
Full speed ahead?
Nick Bradley investigates the role of rail freight to revolutionise UK supply chains green credentials.
Exclusive event
Logistics Manager highlights the launch of Akabo Media's newest event, Final Destination Logistics.
Property: Big Sheds
What is a freeport and how is enhanced planning transforming the industry?