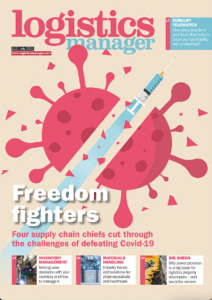 The July 2021 issue of Logistics Manager Magazine is now available to read online!
Cover Story – Freedom Fighters
Four pharmaceutical supply chain specialists push for vaccine distribution….
Inventory Management – Valuable Insights
How are warehouse operatives transforming the warehouse to improve inventory management even in uncertain times?
IntraLogistics & Materials Handling – Risky Business
Materials handling is never an easy process, however, when life-saving medication and medical equipment is at stake, operatives need to be extra careful, particularly in the cold chain….
Supply Chain Conference – Flying Colours
Nick Bradley discovers how Kraft Heinz has come out the other side of the pandemic….
Property News; Big Sheds; Power to Shape the Future
How is the sector struggling or thriving with charging points, paving and parking, people, and what is the new logistics hotspot?