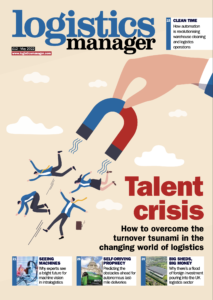 The May 2022 edition of Logistics Manager magazine is now available to read online!
Cover story: Retaining talent: Talent show
Nick Bradley learns that a vastly altered retail landscape and changing demographics are making the labour and skills shortages crisis a little more challenging.
Inside innovations: Warehouse cleaning: Clean machine
Covid-19 has ushered all kinds of automation into warehouses. Nick Bradley looks at how robotic cleaning innovations are ensuring safer and even more hygienic working environments.
Market insight: Air Cargo: Rise up
Michelle Mooney takes to the skies by analysing some recent trends in the air freight sector and asking experts how, and when, levels will bounce back to normality after recent disruptions
Inside Innovations: Machine Vision: Vision Express
Michelle Mooney puts on her technology goggles to see how advancements in machine vision are aiding intralogistics applications
The Big Question: The plastic packaging tax
After the UK Government's decision to tax certain plastics at a rate of £200 per tonne, sustainability has been thrown to the forefront, and Michelle Mooney asks how companies are adapting to be more environmentally conscious
Property: Investment special: The golden goose
Liza Helps speaks to the movers and shakers in the investment market to find out why the UK logistics market is a gift that just keeps on giving for investors