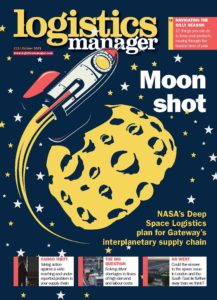 The October 2021 issue of Logistics Manager Magazine is now available to read online!
Cover Story: To the Moon and Back 
Nick Bradley speaks to NASA's Deep Space Logistics team about an exciting new chapter for human exploration – returning to the Moon in the next four years and then onto Mars and beyond from there.
Logistics Leaders: Peak performers 
Peak season will be unlike any other this year, with congestion pressures set to continue, Michelle Mooney looks into what you need to do to keep your operations moving.
Market Insight: Cargo theft
Why are cargo thefts surging, and how can we fight back?
Inside Innovations: Unsung heroes
Loading docks are a key feature of distribution centres, however, they don't typically grab the headlines. So how important are they in the supply chain?
Routing and optimisation: A fine art
How has delivery routing changed and how is it driving forward last mile deliveries?
Property: The ripple effect 
Securing space in core locations in the South East is becoming increasingly difficult for occupiers. Could the answer lie in the West?