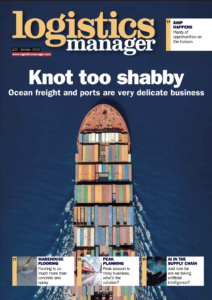 The October issue of Logistics Manager is out now!
Cover story; Ship happens
We take a deep dive into the water to sea what's happening on cargo ships and at ports.
Intralogistics; Warehouse flooring; Casting the foundation
We get down to business on the warehouse floor to explore the different materials and technologies used to create a perfect warehouse space.
Logistics; Peak planning; A 'peak' into planning 
We investigate the challenges associated with peak seasons and how operators are overcoming them.
Logistics; AI in the supply chain; You can't spell supply chain without AI
We take a look at how quickly emerging and ever-evolving artificial intelligence systems are revolutionising processes across the supply chain.
Property; Mid-box
We take a look at the intricate world of mid-boxes.
If you would like to receive your own copy every month, you can apply for one here. If you meet certain conditions, you will be eligible for a free subscription!
So fill in our form, then sit back, relax, and enjoy the next twelve months of absorbing and business-critical news and insight!
If you have any issues with the form, please email us at subscriptions@akabomedia.co.uk